Bon Voyage
Blush Travel Essentials
Posted by Blush Magazine • Posted on June 10, 2013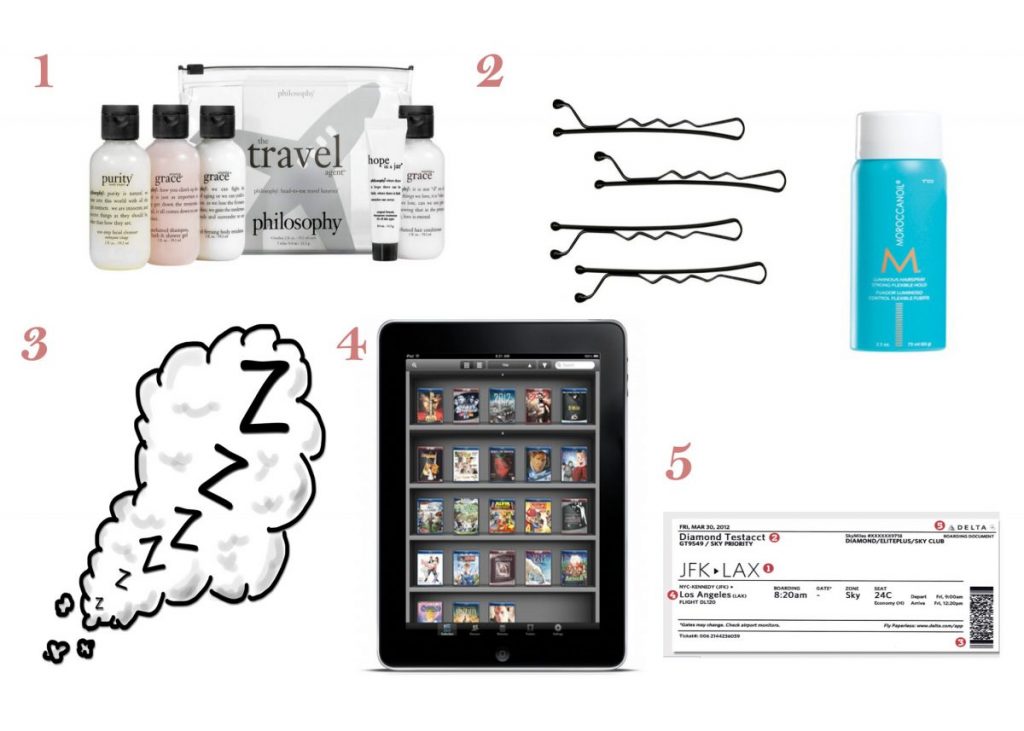 Your honeymoon is your chance to unwind from all the wedding hype, and our Blush travel essentials list comes from a veteran globe trotter. In addition to the honeymoon, we've got you covered for Valentine's weekend getaways and for an ambitious trip across two continents. Packing has never been so easy and being prepared is so in!
Mini Me
Try saving up sample sizes from your favourite cosmetic brands. Those sample eye creams and moisturizers you never got around to trying make the perfect space-saving travel kit, without the need to sacrifice your most important products. Blush loves "free gift with purchase" promos for the mini travel sizes of fragrance, skincare, and body products that you can't find small! We're also big fans of Sephora's trial-size section. Ransack it and then head to Shoppers Drug Mart for things like mini hand sanitizers, unscented Life-brand wipes, and empty bottles to fill with products that don't exist in small sizes. Oribe's Anti-Humidty Spray is a must-have for traveling to humid climates (and it's available in a travel size).
Dial 9-1-1
Blush has gotten more than one friend out of a bind with our emergency travel kit. Perfectly suited to regular trips and your big day, make sure it is well stocked and protect its contents with a soft-sided cosmetic bag. For events, leave it with a trusted sidekick. Fill your kit with safety pins, a needle and thread in black and grey (not white), two doses of Advil, Static Solution, a stain remover such as the Tide to go Stain Stick, bobbi pins, and the like. Also, make sure you've got things like breathmints and Moroccan Oil Hairspray in a purse size. For travel, start with the cosmetics from your Mini Me and add in a small pair of nail scissors as well as some stomach remedies such as travel-size Tums.
Get Some Zs
Catching up on much-needed sleep is often the goal of weekend getaways—and even your honeymoon. Unless you're flying first class, plan to bring a travel pillow for the plane and a Pashmina to use as a throw-type blanket. While most airlines provide small pillows and recycled, light-weight blankets, these are usually less than comfortable. Travel like a pro by making comfort a priority. Don't forget to pack your sleeping mask, as the time zone changes and excessive cabin lighting can often make sleep difficult. For noise, Shoppers Drug Mart sells a handy set of foam ear plugs. These will help you block out the crying children and the cabin crew's non-stop litany of announcements for on-flight, duty-free shopping or sugary beverages.
Monkey See Monkey Do
In-flight entertainment is a given these days, but that doesn't mean the selection is good. Use your vacation time to catch up on all the reading, watching, and listening that you've wanted to do for months but couldn't. Find a spare moment (or ask your bestie) to fill your iPod or iPad with the movies and music you've been dying to see and listen to. (If you're a techie bookworm, get the e-books as well.) Compile your must-read list and bring a couple with you for those beachy afternoons. Blush suggests two movies and three or more new albums, as well as at least two books for longer trips. Don't spend excess cash at airport bookstores or magazine stands. Be prepared with the things you like so you can really get the most out of your much-needed holiday.
The Paper Trail
This is perhaps the most important thing on the list. Yes, modern technology allows us to check in online and use electronic boarding passes, but don't rely exclusively on something that runs on a battery when you're going to a new place. While we love scanning our smartphone during boarding, we always keep a paper copy of our itinerary handy, just in case. Flying internationally means different plugs and the need for adaptors that don't always work. Play it smart by printing all itineraries and bookings (yes, even those for plays and events), and store them with your passport and other legal documentation. Your smartphone dies and you can't charge it? No problem, your paper backup allows you to stay organized and panic free.