Dance Floor Wraps
Elevate Your Wedding Reception Design
Posted by Blush Magazine • Posted on June 1, 2021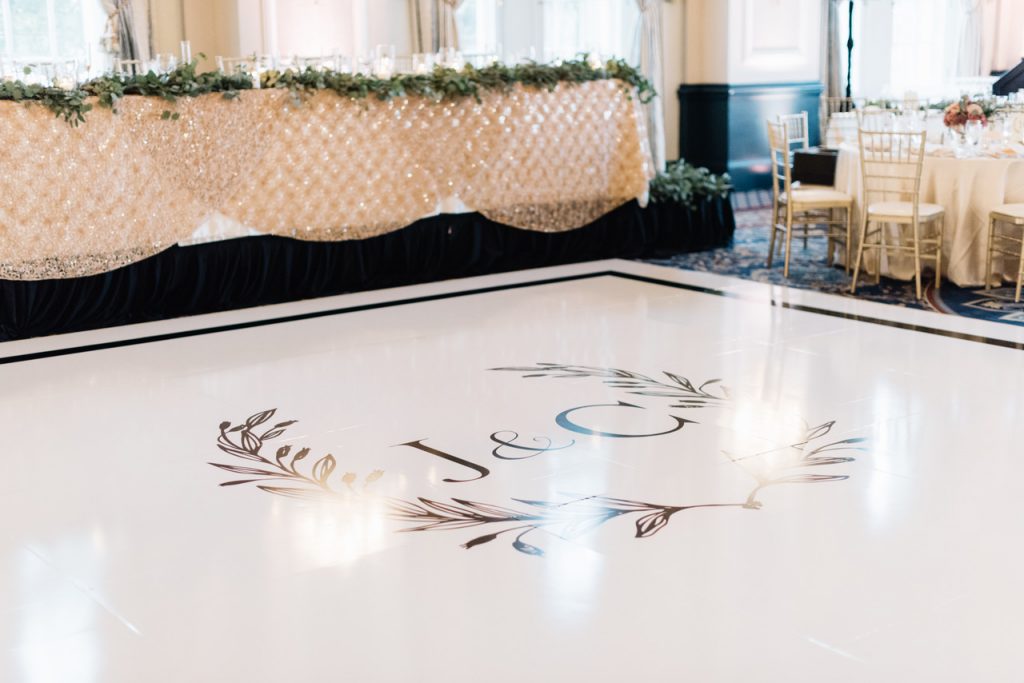 Personalized dance floor wraps and decals are the perfect addition to any wedding reception. Newlyweds can dance atop their very own custom dance floor decal or have the entire floor wrapped with a custom theme or image. Custom dance floors will leave a high impact visual effect and are perfect for photo opportunities. We asked Talent Productions all our dance floor wrap questions and summed it for you in this post.
What's the largest dance floor you can wrap?
Vinyl wrap can be applied to any size space. As long as the venue provides enough time for installation, it can be done! A 2,000 sq ft dance floor can be wrapped in under 3 hours.
What's a good way to customize a dance floor?
If you decide to wrap your venue's dance floor, you will want to ensure that it matches the rest of the theme and decor. When ordering a dance floor from Talent Productions, a graphic designer will work closely with you throughout the design process. The design or monogram can also be incorporated into your stationery to really bring things together. Shapes, floral and borders can also be added to take your dance floor to the next level.
How much in advance should they be ordered?
At least 2 weeks prior to your big day to print and cut the decals.
How many wraps can you install in one day?
Our current daily maximum is 3 wraps. We have done more, however, we feel that 3 is the perfect number for our workload and installers. Book us early!
What should we expect for pricing?
Cost is dependent on the size of the dance floor and the material(s) of the decal. There are multiple things that are factored into pricing. Decals can be full colour prints, foil based or a standard black or matte gold. The most popular dance floor is a 16×16 with a 4×4 decal in the middle (avg price $1,200.00). This rate includes full design of the decal/monogram, installation and removal the following day.
Talent Productions is an Edmonton based entertainment and rental company offering; DJ's, lighting and dance floor wraps.