Top Outdoor Okanagan Wedding Venues
Mountains, Lakes, Vineyards and More!
Posted by Blush Magazine • Posted on January 20, 2022
The Okanagan Valley is one of the top wedding destinations in the entire country. Its incredible weather, lakes, mountain views, and wineries make it hard to resist, especially for a wedding celebration. Expert wedding planner, Nikki of Created Lovely Events, put together this list of the top outdoor wedding venues in the Okanagan where you can take full advantage of the region's outdoor assets.
Fitzpatrick Family Vineyards- Peachland, BC
Pop the bubbly! If there was a venue for sparkling wine lovers, Fitzpatrick Family Vineyards is it! Enjoy your ceremony on the lower lawn with totally uninterrupted views of the lake. Your guests will walk the path down to the ceremony sipping bubbly and move up to the patio for your open air or tented reception with an unparalleled sunset view. Your guests will love the private experience of this winery- dancing the night away exclusively at the reception. The catering and bartending is offered in house- making it a smooth planning choice to have all your guests in one space from the ceremony to last call, and a great catering and bartending team already secured when you book the venue. With limited dates available, this is a venue you want to be on top of booking.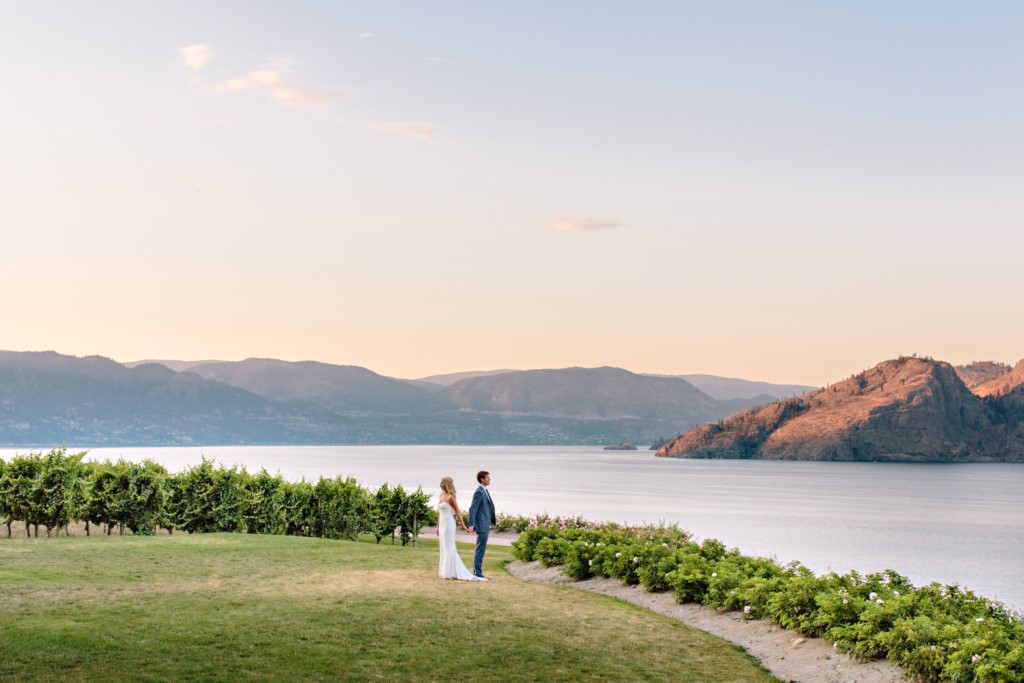 Photo: Adrian Photographers
Linden Gardens- Kaleden, BC
Located in Kaleden, just 15 minutes outside of Penticton is a hidden gem of beautiful gardens for your outdoor Okanagan wedding. This space can be just as natural or magical as you want it to be and is great for a wide range of guest counts. The gardens weave from ceremony to reception, making it feel whimsical and a bit childlike as you explore your way through. You'll love the amount of shade and wind coverage gardens provide for an outdoor wedding, though you'll want to tent the reception area after seeing a tidewater tent in there and will be keen to dance under the trees with the string lights. Overall, if you love a magical garden feel, look no further. This venue is for you.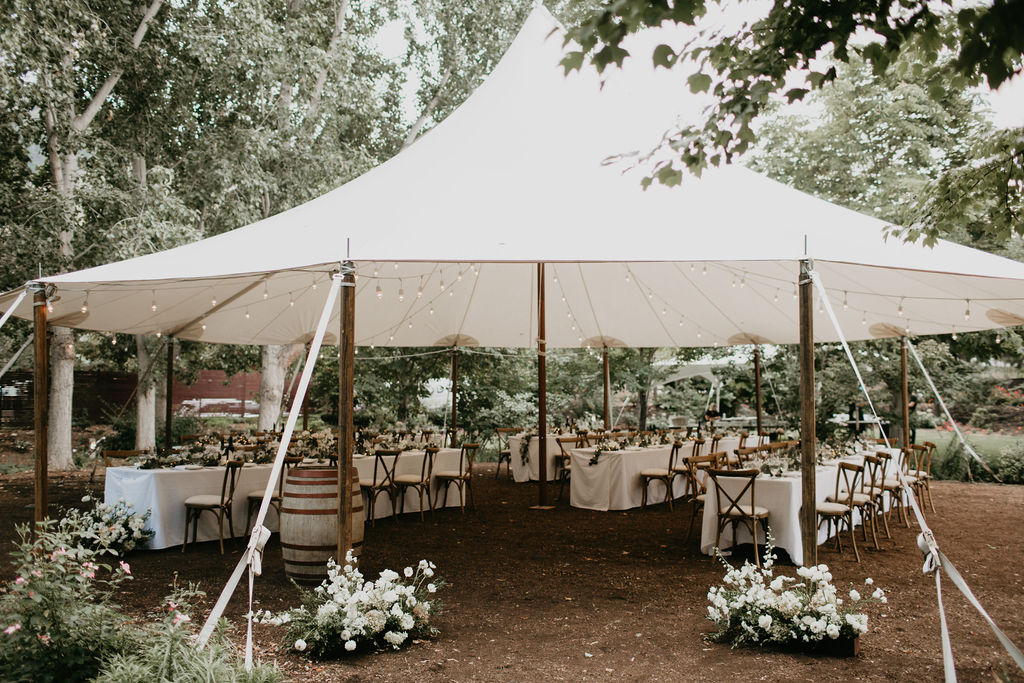 Photo: Sharon Litchfield
50th Parallel Estate Winery- Lake Country, BC
If your guests have never been to a winery, this is one you'll be so proud to share and they'll be thrilled to experience. 50th Parallel offers a one of a kind wedding venue- designed so perfectly to allow the top infinity pad to overlook the vineyard and lake for your ceremony- followed by multiple reception options. The tankhall is a particularly unique experience to have dinner underneath string lights where the wine is produced. Alternatively, you can have your reception in the beautiful event space with a more modern, polished aesthetic. Can't decide? You don't have to! You can book all the spaces and use them from cocktail hour or dancing as they have sliding doors that open into one another. Wine pair your coursed dinner and add on some of their delicious late night snack options before your guests shuttle (or party bus) their way back to their hotels late that evening.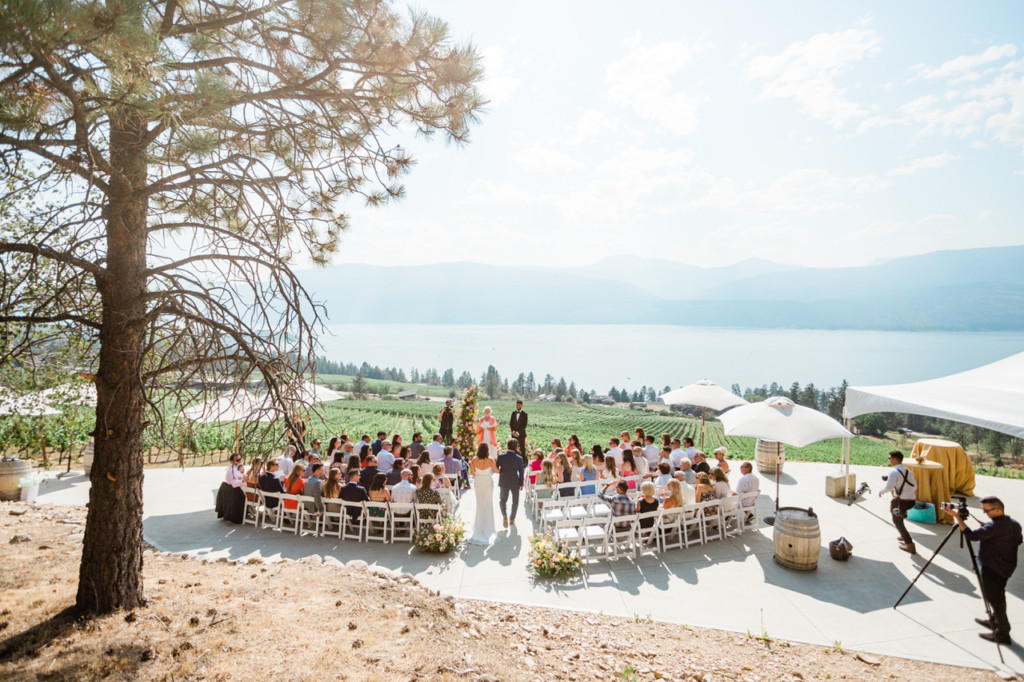 Photo: Royce Sihlis Photography
Cedar Creek Estate Winery- Kelowna, BC
One of the prettiest vineyard ceremony views in the Okanagan is back. Cedar Creek's wedding space is recently renovated and it does not disappoint. There's so many reasons even beyond booking your wedding to stop here while getting married in the Okanagan. Wine tour, book your bachelorette lunch, go on a date before your wedding, book a rehearsal event for lunch or dinner or even get your wedding wine here. Cedar Creek should be on your list of must-do's. As a wedding venue, it is perfect for the client that wants a beautiful view, photos in a vineyard, and a covered outdoor reception all in one space. The pavilion provides cover, shade screens, and fans to keep your guests cool and comfortable in the Okanagan heat. This space is ideal for smaller weddings, focused more on a wine and dine experience than a late night party. You and your guests will absolutely love the food, wine and service offered at this venue.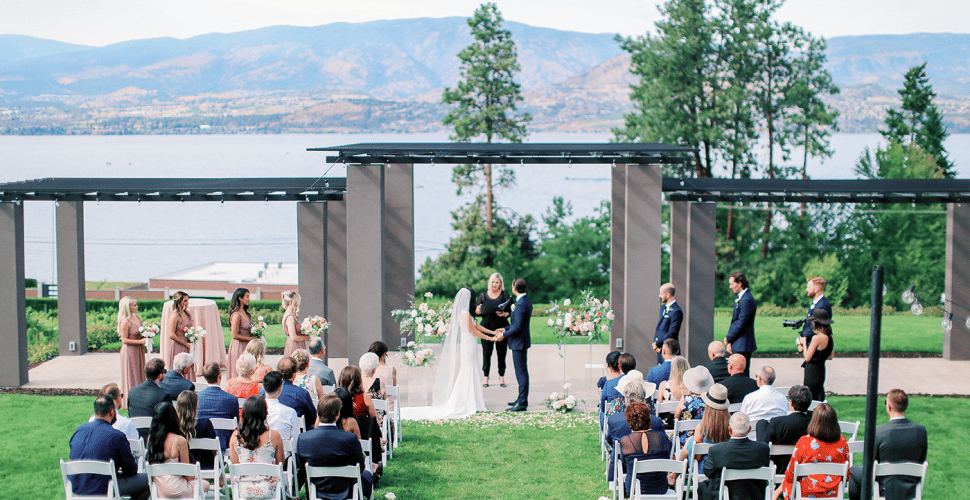 Photo: Nadia Hung Photography
Mackie House- Vernon, BC
For a person that loves character and history, this outdoor wedding venue is a stunning option. Mackie House was built in 1910 and has been beautifully preserved to make it the perfect outdoor garden party wedding on the waterfront in Vernon. Their two-tiered lawn makes it easy to divide your ceremony and reception and can accommodate a wide range of guest counts. The lower lawn can easily be tented for a larger, covered reception- while the kitchen at the house can be rented for your caterer. Your guests will love the well-kept grounds and you'll love sneaking away down to the water for sunset photos. It's an absolute hidden gem for outdoor weddings.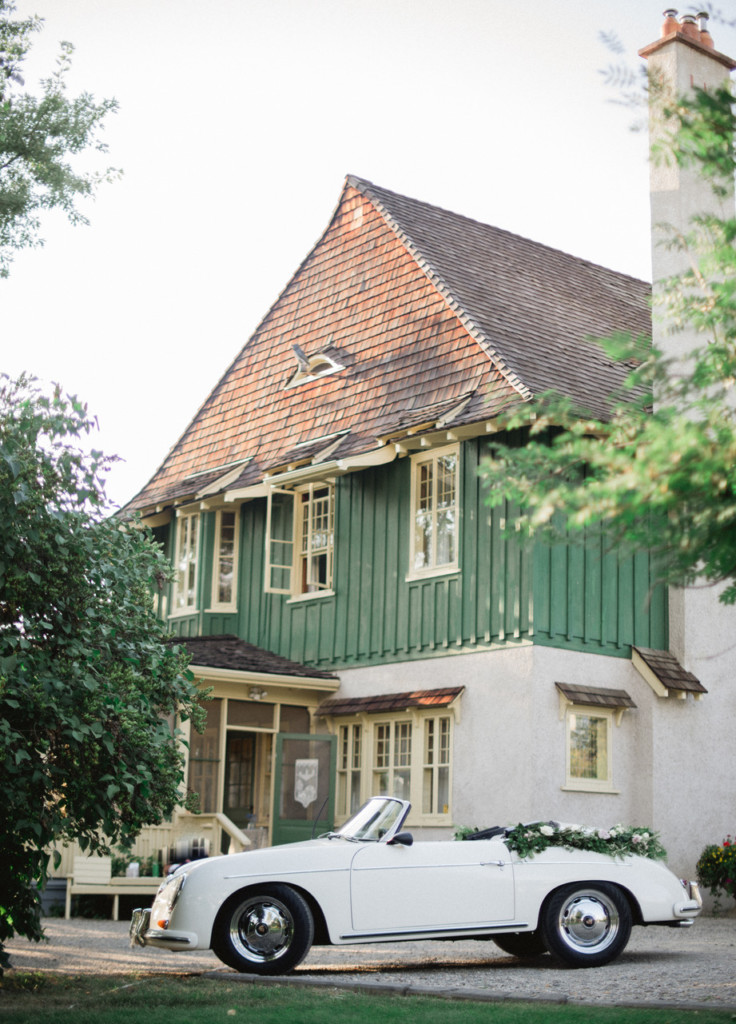 Photo: Christine Graham Photography