6 Romantic Ways He Asked
Planning To Propose on Valentine's Day?
Posted by Blush Magazine • Posted on February 7, 2016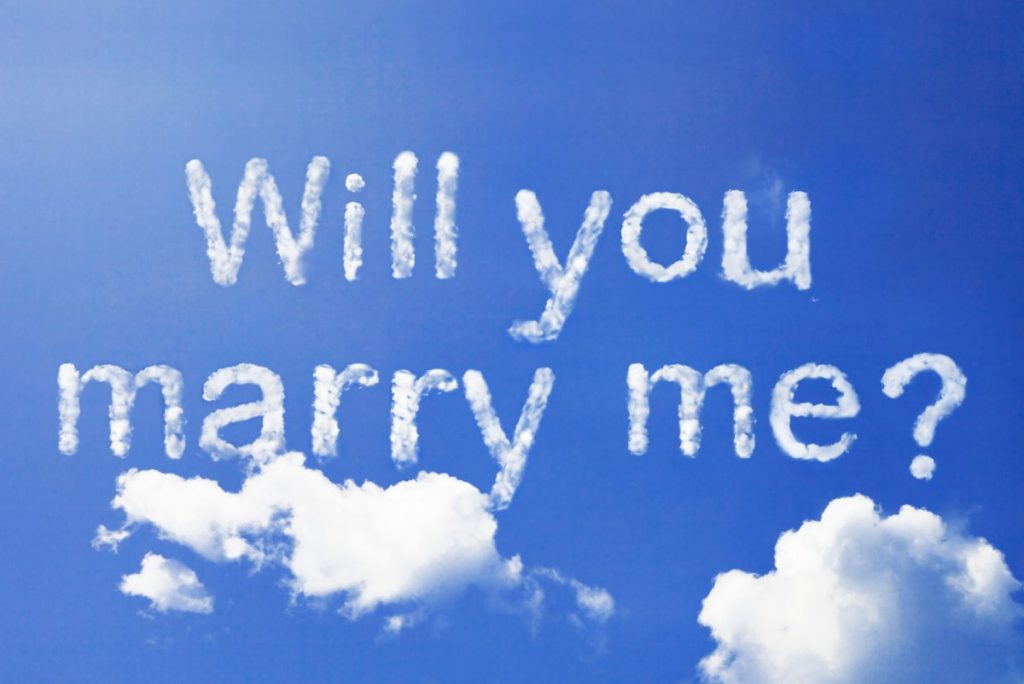 Ready to pop the question but you aren't sure how to make your proposal extra special? Coming up with the right way to ask those four little words can be a challenge. You're probably thinking it has to be a BIG proposal  — something he/she'll never forget. It should also be personalized to your relationship. That's a lot of pressure!
Don't worry, we are sharing 10 fabulous stories to help make your proposal even more unforgettable from Blush's featured couples themselves;
Where We First Met: April 16, 2013, was a déjà vu moment. Shyloe modeled again for Manulife night, Eric waited to greet her, and afterwards the two walked hand in hand to Sherlock Holmes—but this time, Eric got down on one knee and asked Shyloe to be his wife. "We had not been back to Sherlock Holmes since we met," said Shyloe, which made the moment infinitely more special.
Christmastime in NYC: Kyle's well planned proposal to Chase was grandiose. Christmastime, already a magical time, was made increasingly more resplendent with Kyle's proposal. As Chase arrived at home, he received a text from Kyle that prompted him to find a Christmas decoration with a little scroll attached — the note that Kyle had penned simply provided Chase with a flight number and the instructions to arrive at the airport no later than 8:00pm with one carry on suitcase — nothing more. Shortly after, a friend, without additional clues, arrived with a bottle of champagne and drove Chase to the airport. As Chase stood at the check-in counter with his flight number in hand, he learned that he was about to embark on a journey from Vancouver to New York. As he boarded his flight, Chase received another straightforward text that simply said that more instructions would proceed.
As he arrived in New York, Chase was directed to take a taxi to a hotel. Upon checking in, Chase entered his room where another scroll awaited his arrival. This note provided him with the directions to go to Rockefeller Centre. After his red-eye flight, animated by the adrenaline of the adventure, and unsure of what to anticipate, Chase arrived to find Kyle standing at the end of the row of trumpeting angels next to the infamous Christmas tree. As Chase got closer, Kyle proposed.
With A Busker in Churchill Square: One night, Lara thought they were just having a date at Characters restaurant, but after dinner Greg swept her away in a limo to Churchill Square where they had said "I love you" for the first time. A busker started playing "Wonderwall" by Oasis and at the end of their dance Greg got down on one knee.
Paris Is Always A Good Idea: John's proposal was nothing short of thoughtful perfection. Meredith fell in love with a photo her stepsister took while in Paris of a young couple on a bridge with the Eiffel Tower in the background. Planning to visit Meredith at the end of her business trip in London and travel to Paris together, John knew the perfect place to pop the question was on the same bridge in the cherished photo—and that's exactly what he did.
A Homemade Storybook and Video: On the fifteenth of February, Najla thought she was going over to Alaa's to watch a movie. Here, she found an aisle filled with candles that led her to the living room. Najla was given a book that Alaa had created to go alongside a video that played on the television, "The Story of You & Me," narrated by Alaa. The ending of the movie and the last page of the book were a photograph of Najla's engagement ring; "will you make me the luckiest, happiest man alive and marry me?" With tears of joy, Najla happily accepted Alaa's proposal. In order to truly share the proposal story with their family and friends, Alaa set up a camera to record the proposal in its entirety; together, Najla and Alaa will be able to relive their proposal for years to come.
A Carpet of Petals + An Afterparty: Tony chose to propose at the Art Gallery of Alberta, because that's where the couple had their first date. The team decorated the spiral staircase with photographs of Tony and Jenny throughout their relationship. As Jenny ascended the stairs at sunset, Tony was standing on a carpet of petals from 1454 roses of various shades–one rose for every day they had dated. After Jenny said "yes," their closest friends showered them with confetti and popped the bubbly.