8 Gowns Perfect For A Micro-Wedding
From Delicate Lace to Simple Silks
Posted by Blush Magazine • Posted on February 18, 2021
2020 will likely go down as the most postponed wedding season of our lifetime! The pandemic certainly brought couple's plans and dreams to a complete and disappointing halt around this time last year, but as we entered summer and restrictions were slowly lifted, a new version of small weddings emerged and the "micro-weddings" came storming in. We're predicting an influx of  intimate, or more begrudgingly "socially distanced," and slightly more laid-back styled weddings all summer and fall.
A micro-wedding can include anywhere from 10-50 guests and the overall style is much more relaxed than a typical wedding. We've curated a selection of gowns perfect for an outdoor tent wedding to nuptials with the majestic rocky mountains as the backdrop. Shop everything from delicate lace to simple silks for your special day because lucky for us, there are no restrictions on what we get to wear!
Gown 1: Ryder by Made With Love from Novelle Bridal Shop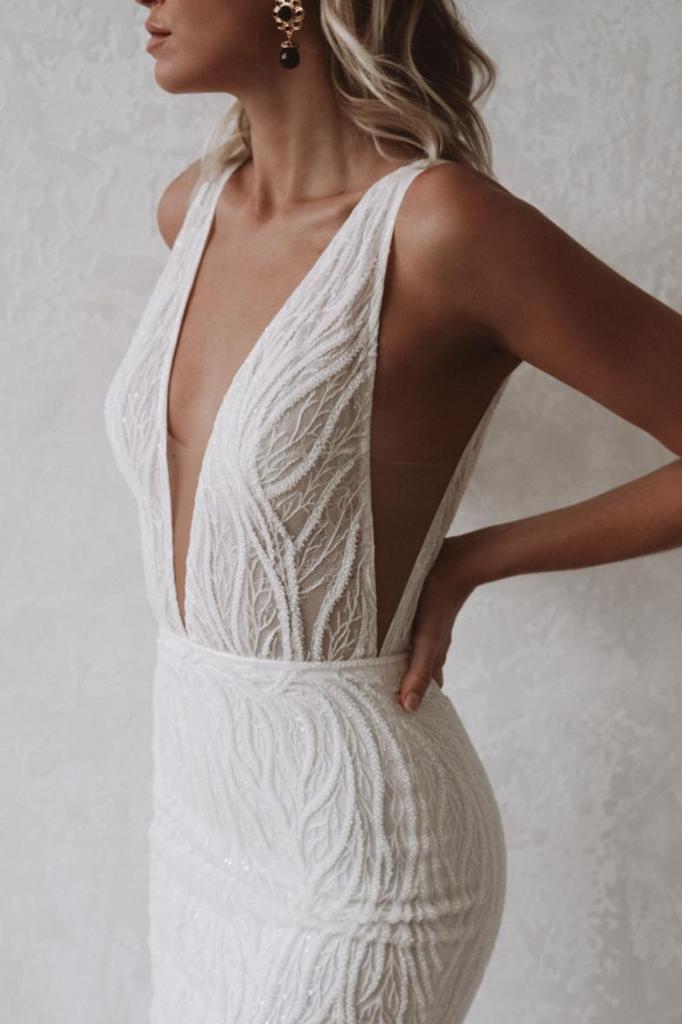 This plunging neckline speaks for itself! This all over beaded gown is simply jaw dropping. Our style team suggests adding a waist length veil to keep the attention on the bead details. Opt for jewelry that will complement the sparkle of the dress such as a bracelet or earrings and consider a dark accent in the bouquet for a striking look.
Gown 2: Adele by Jenny Yoo from Delica Bridal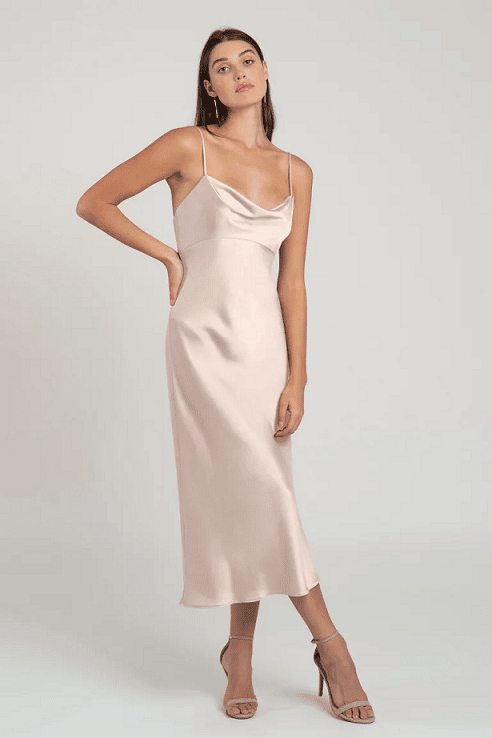 For some, rescheduling an entire wedding is just not an option and many have simply chosen to elope or follow through with micro wedding restrictions. Nevertheless, this silk satin midi dress is extremely popular for its simplicity and versatility and can be repurposed for any occasion. The ultra popular dress by Jenny Yoo can be paired beautifully with a wedding bolero or bridal wrap to suit the bride instead of a veil for this style.
Gown 3: Zoe with Vagabond Removable Sleeves from Blush & Raven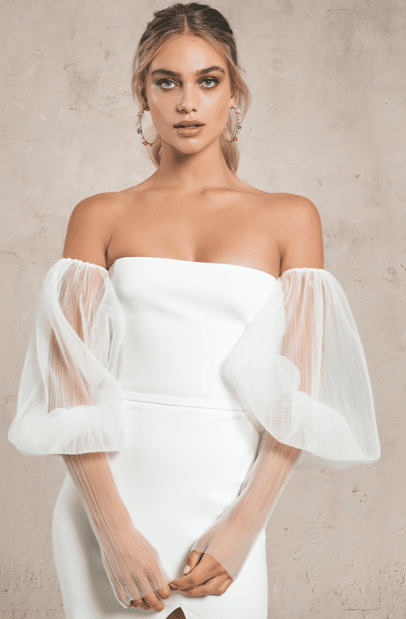 For the modern bride with a taste for delicate details, the Zoe from Blush and Raven is a simple and elegant strapless crepe dress with a small waistband detail. The dress boasts an impressive slit up the left leg and can be paired beautifully with removable tulle sleeves for an ethereal look. Sleeves are a major trend in both the fashion runways and they continue to evolve into the bridal world this coming season. Our style editors recommend a simple strappy shoe to compliment the elegance of the dress paired with or without a veil.
Gown 4: The Elysian from Delica Bridal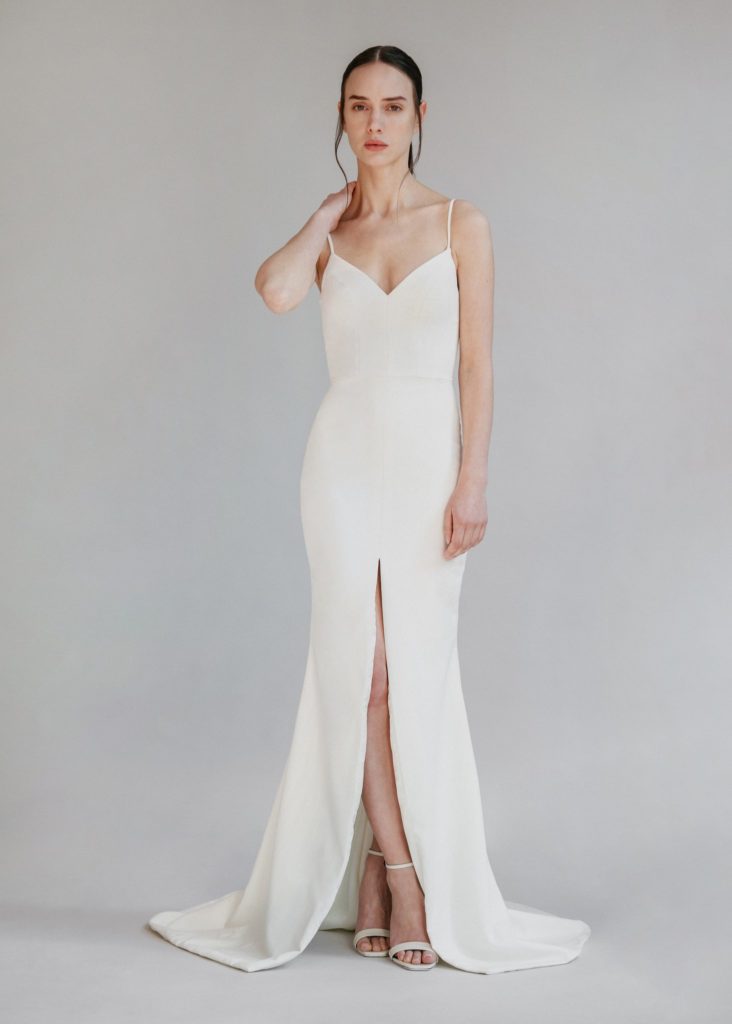 The COVID era holds no grudge against the elegance of simplicity. Featuring a spaghetti strap and v-neck top with a sheath skirt, the Elysian from Delica Bridal moves elegantly with a sweep train. Pair it beautifully with a shoulder to hip veil and a strappy shoe to showcase the legs through the centered slit. Consider a statement bouquet with dimension and length for a more dramatic look.
Gown 5: The Sennett with Removable Sleeves by Willow from The Bridal Boutique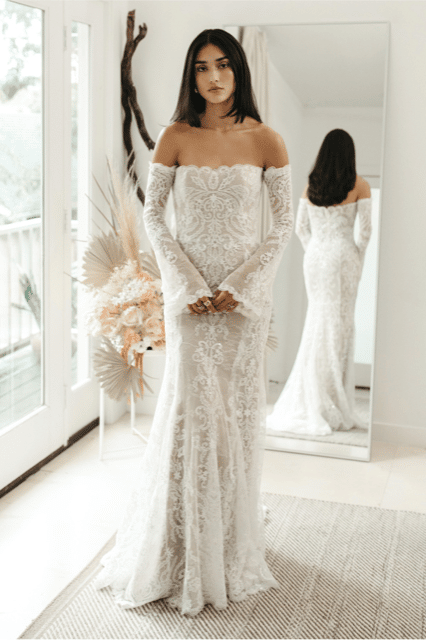 A classic lace bridal silhouette with an elegant addition including removable flared sleeves is perfect for the bohemian inspired bride. Delicate and feminine, the Sennett by Willow would pair beautifully with a floral crown and a coordinating bouquet, or for a traditional look we would recommend a knee or floor length veil.
Gown 6: Savannah Miller – Honor with Marlowe from Blush & Raven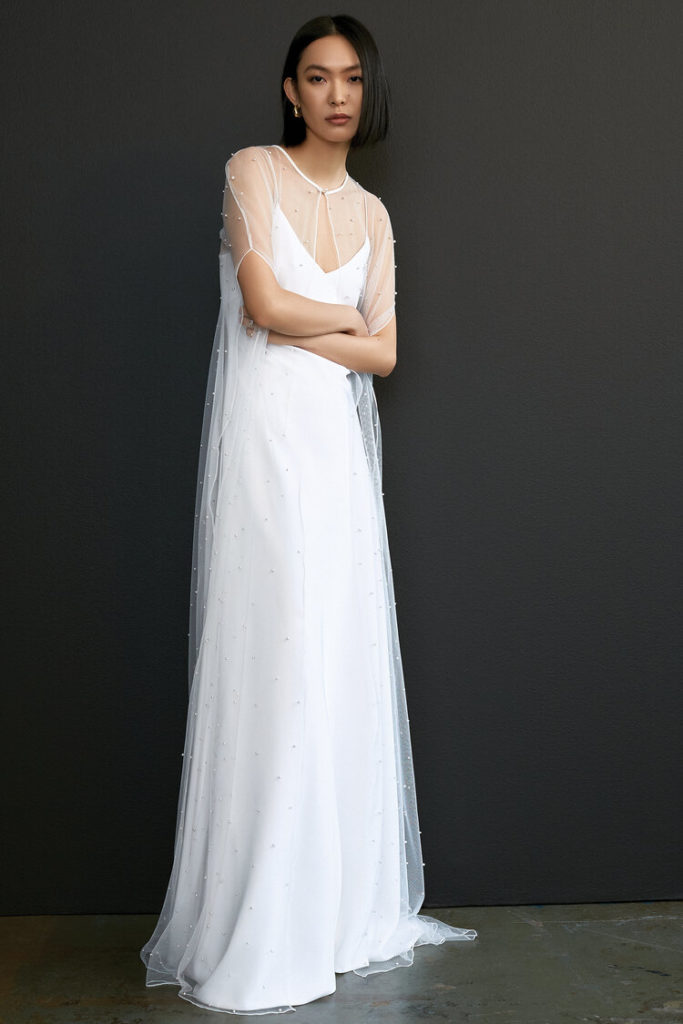 Considering the substantial reduction in guest numbers, we are seeing a lot of brides pair down their wedding dress style to a more relaxed look as well. The Savannah Miller gown features a scattered pearl cape that creates an ethereal look perfect for a micro wedding in a winery. Include a delicate hair pin for added sparkle and a satin flat or low heel to complete this graceful look.
Gown 7: Martina Liana Exclusively at The Bridal Boutique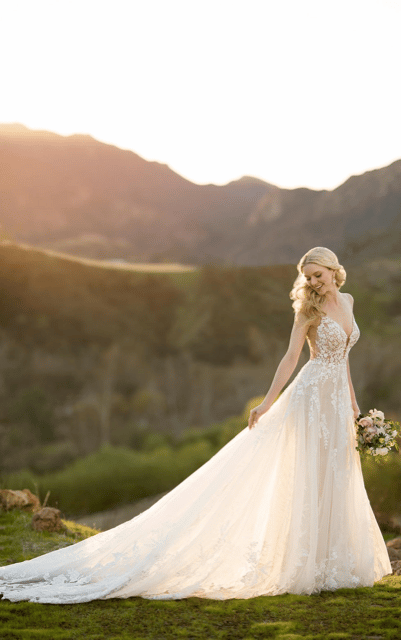 For some brides, patience has truly been a virtue and the delay may have given them a bit more time to plan their ultimate dream wedding. What's a wedding without the dress of your dreams? More than just a wedding dress, this couture gown is fit for the glam bride wanting more. Gorgeous lines and patterns leave room for hair up or down and can be styled with a chapel or cathedral length veil. Our style team suggests a sparkly earring and a matching bracelet for an exquisite look.
Gown 8: Bobby by Madi Lane from Novelle Bridal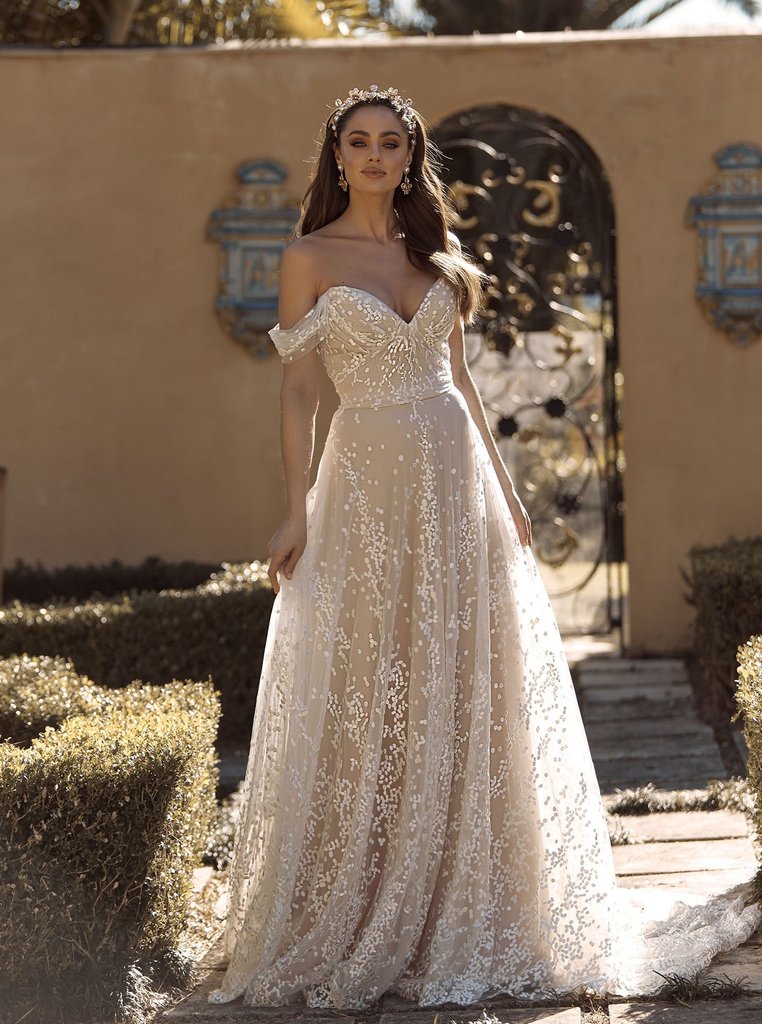 Still wanting more? This stunning A-line dress from Novelle Bridal has all the good stuff we want in a dress including pockets! Our style team is in love and we might simply add a matching crown to pull together the detail in the tulle skirt and drop earring for a regal feel. Paired with a gorgeous strappy shoe this look is absolutely perfect.