9 Bridal Shoes of 2021
From Low Heels to Tulle Bows
Posted by Blush Magazine • Posted on May 5, 2021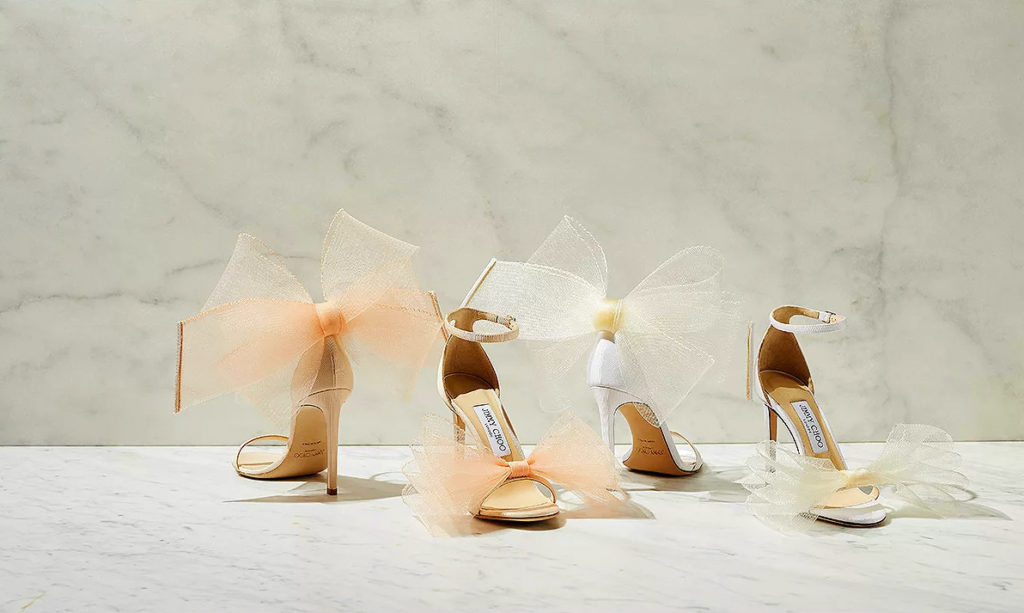 Our favourite part about shoes is knowing that they will always fit! The bridal landscape has changed for obvious reasons and there is this really magical sentiment of nostalgia floating around. From low heels to tulle bows we have nine shoes that will make you blink twice and consider going all out for yourself, besides, your guest list is a tad smaller so now you get to treat yourself!
Definitely a showstopper. The Jimmy Choo is nothing short of everything the brand name is known for. Doing the most! With an oversized tulle bow this shoe is a fantastic option for a bride wearing a shorter dress and wanting to show off her legs. Let it be known, these beauties are 4 inches so be sure to wear them a couple times prior to the big day!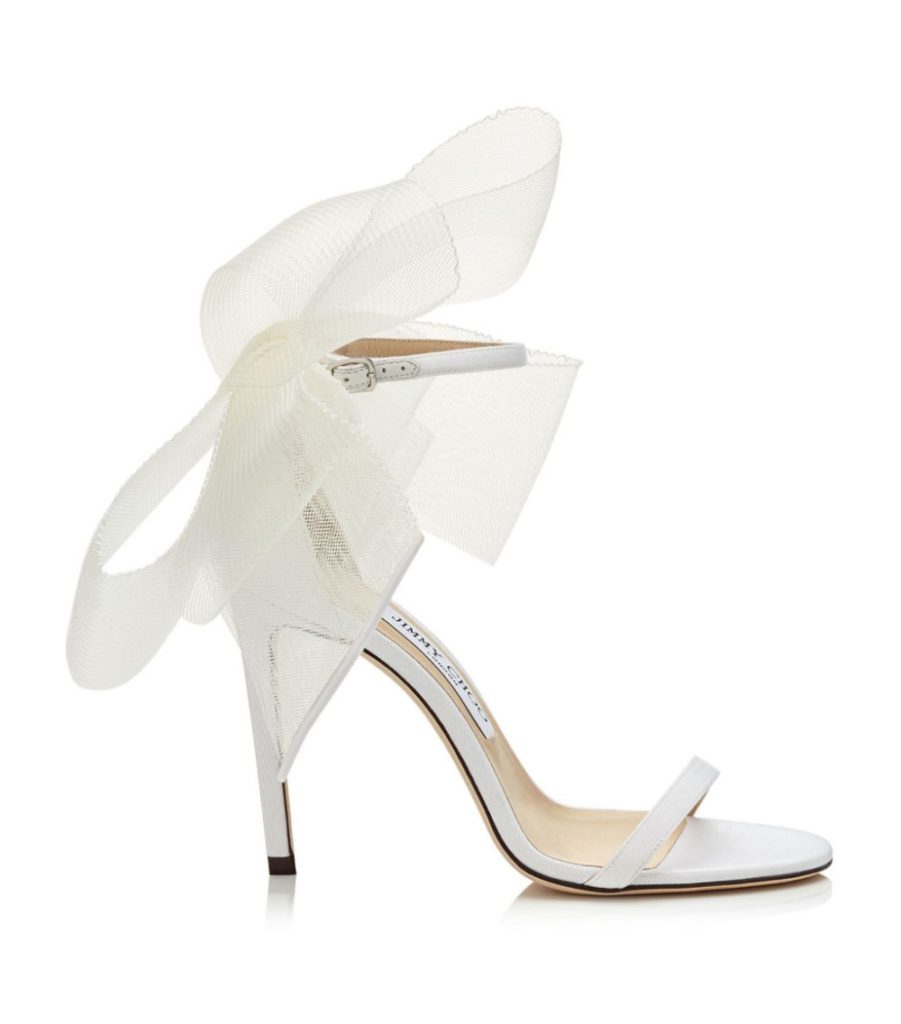 Looking for a practical shoe for your wedding? Look no further than this practical style from Poppy Barley. The Meghan Cutout Heel in Petal features a cutout that can easily take your wedding look on the go as well as a leather covered elasticized strap for added comfort. These beautiful shoes are designed in Canada, they are ethically crafted and B certified!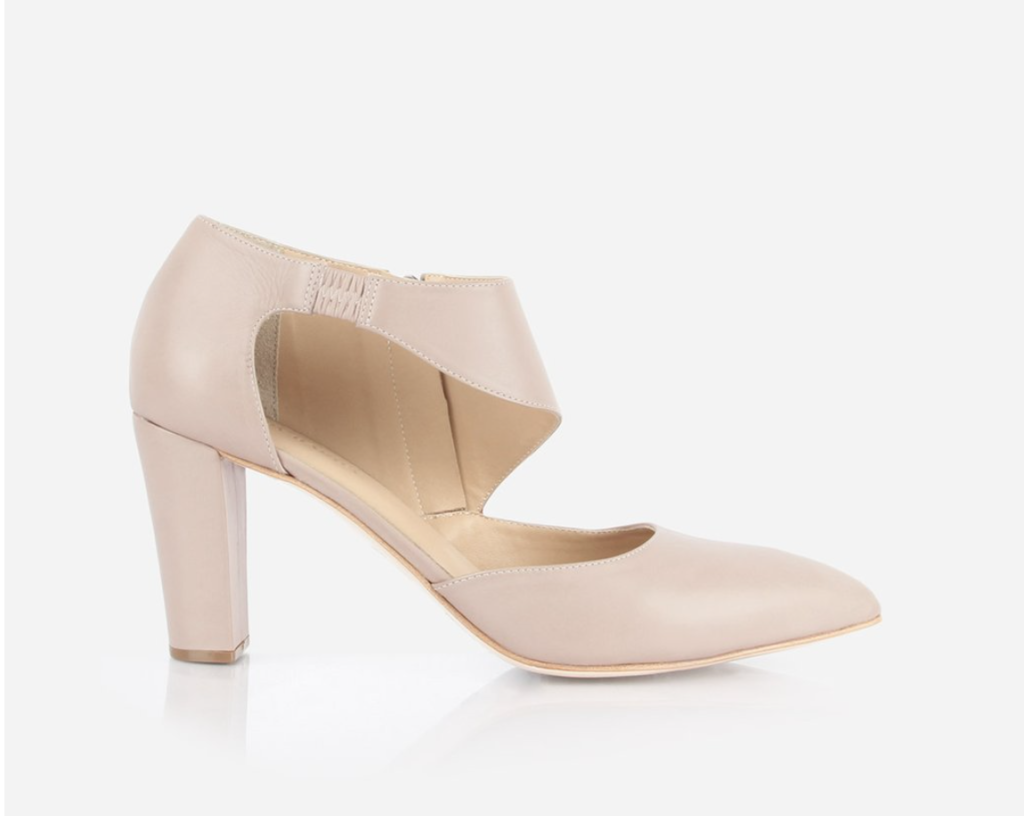 Something blue never looked so good! Just shy of 3 inches, this blue suede heel is the perfect height to keep you dancing all night. With a gorgeous rhinestone embellishment on the toe and a delicate strap on the ankle the Abute shoe by SJP is charming and feminine. Don't let them be hidden all night under the dress, give them a moment to shine too!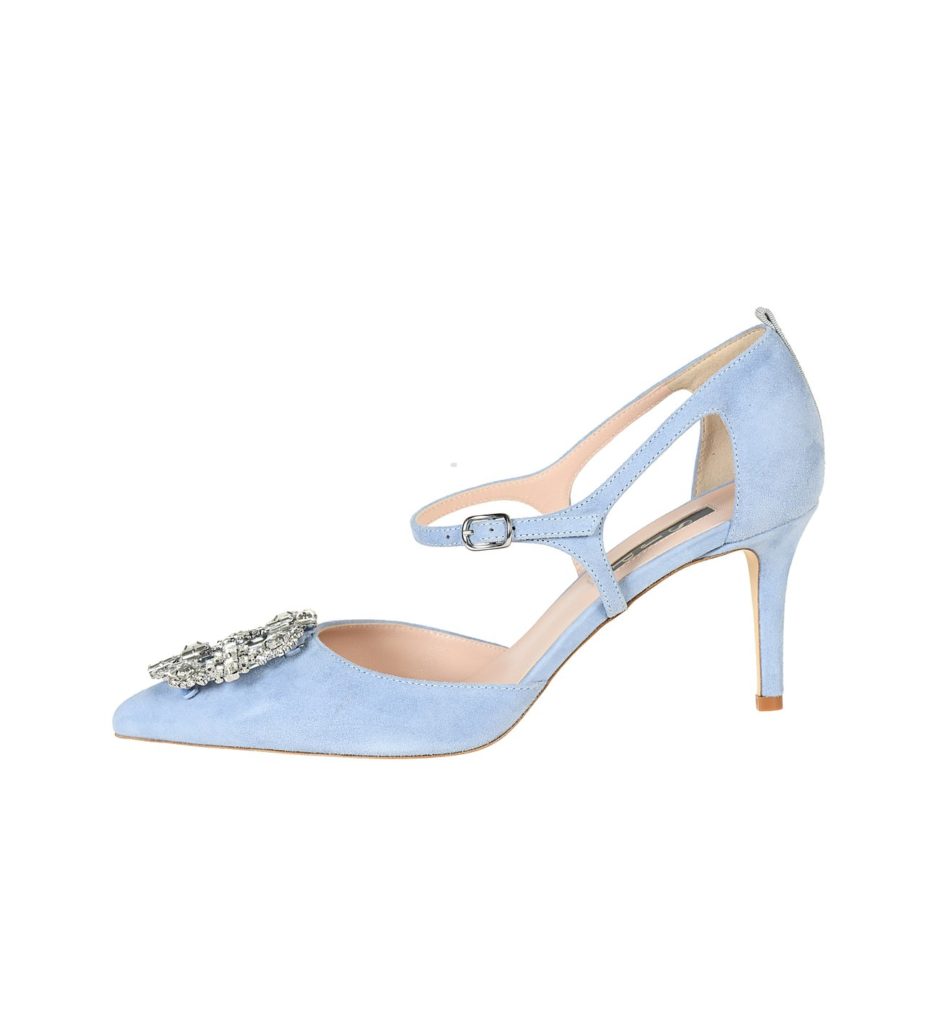 You may just want to go all out on these exclusive shoes. Amina Muaddi is not only the talent behind AWGE and Fenty Shoes, but she also has her own signature collection featuring her iconic martini heel and sling back shoe in vinyl. This gorgeous shoe also boasts a stunning swarovski-crystal brooch on the toes!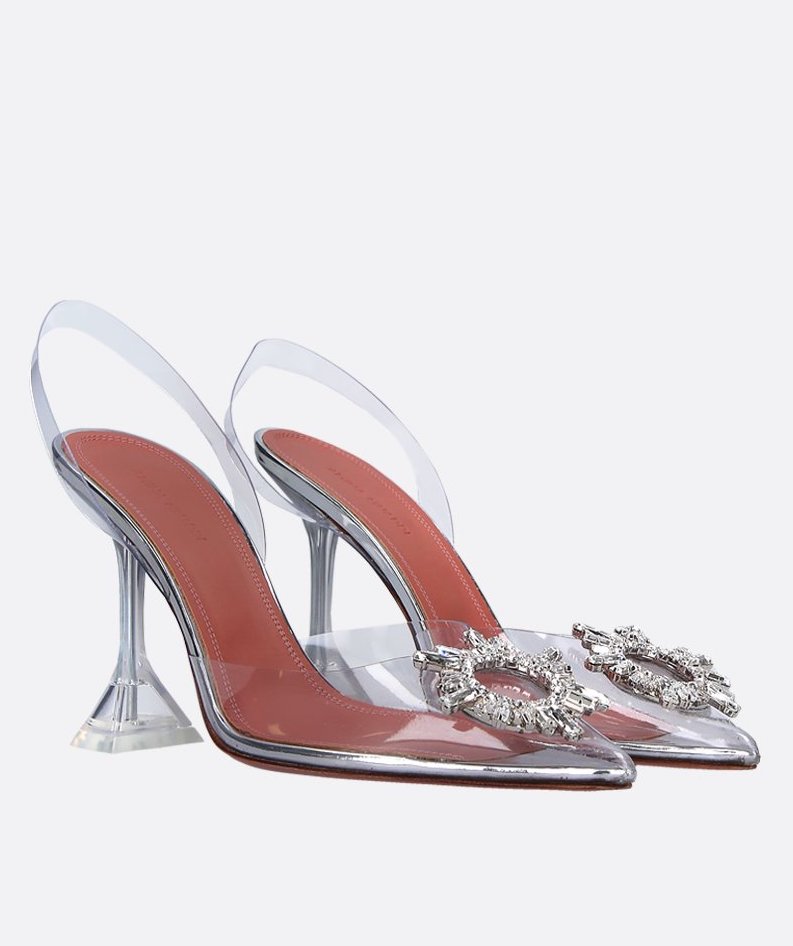 MANOLO BLAHNIK: HANGISI EMBELLISHED LEATHER POINT-TOE FLATS
Now where would we be without Manolos on this list? You may be surprised to find that we chose the flats but with the trend of micro weddings on the rise and slightly more casual dress codes we expect to see a lot more brides considering flats, low heels, and a flexible option that they could wear again! These Manolos are made from smooth white leather with a pointed toe silhouette and the iconic crystal embellished buckle on the toe.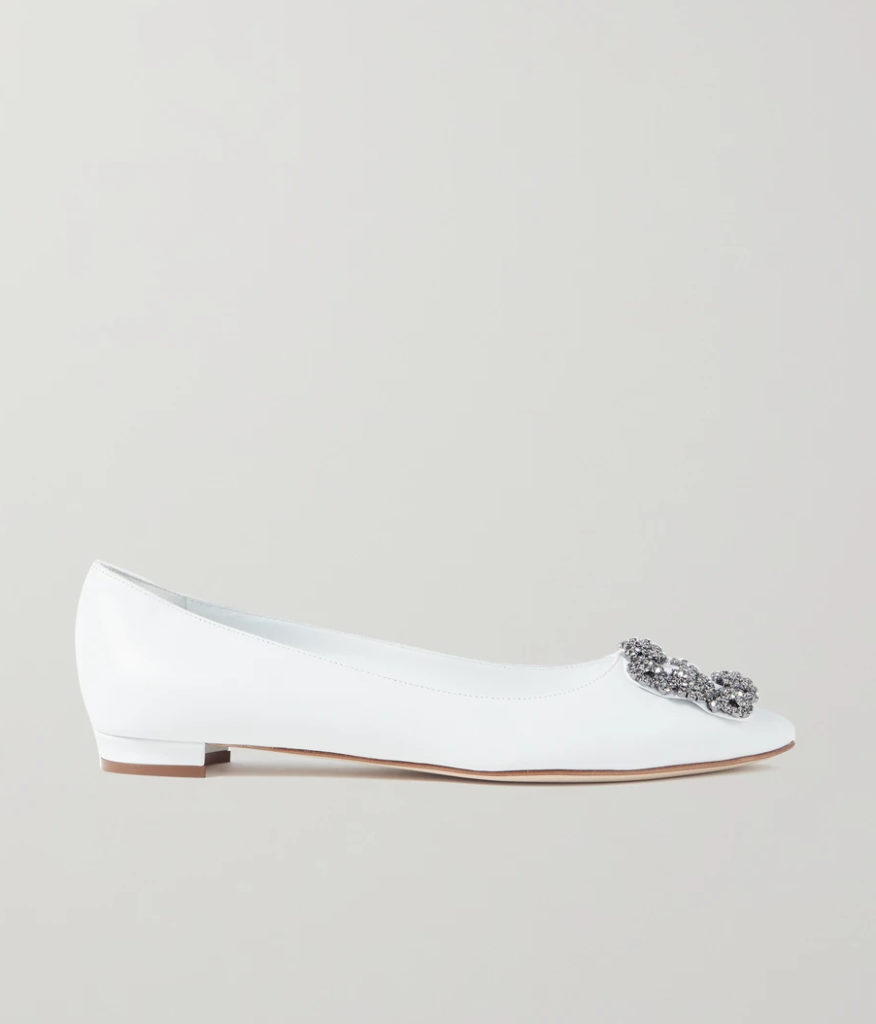 JIMMY CHOO: BING 100 GLITTER TULLE MULES WITH CRYSTAL STRAP
For a sophisticated and glamorous look, the Jimmy Choo Bing 100 Glitter Tulle Mules With Crystal Strap are exquisite. The 4'' heeled Tulle Mules have a delicate crystal strap to match the crystals in your gown or tiara that you may be wearing. Made with fine glitter, tulle, and leather, these slip ons are a pair to remember!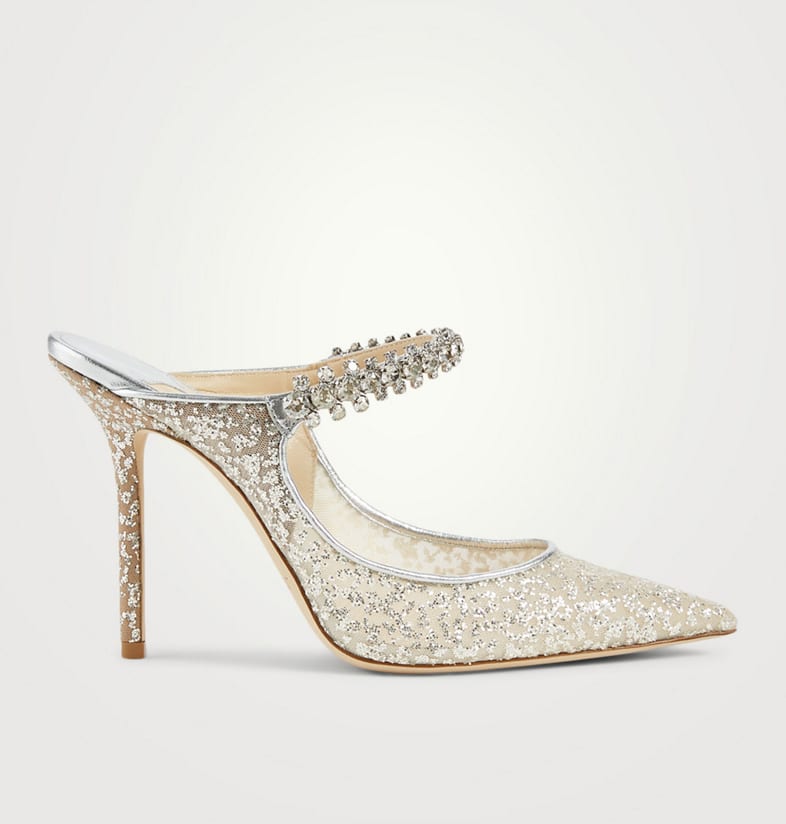 Hot on the trends this year, the Bella Belle Anita Illusion Lace Cross Strap Pump is simply one of our favorites! It's absolutely gorgeous, it's delicate and every bit of bridal is encompassed in this show. From the wider toe box for added comfort, to the ivory illusion lace on the toe, the silk straps give you a perfect fit.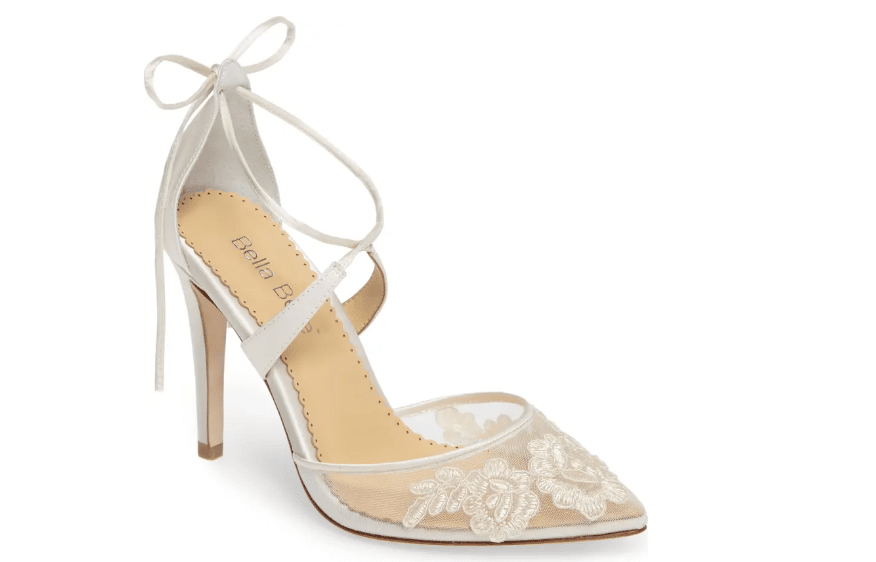 Natalia Pearl Platform Bow Heel
Need a little bit more height for your big day? The Natalia Pearl Platform Bow Heel has got you covered with enough height and bridal femininity for us all! This shoe is perfect for a Spring or Summer wedding and considering Brides are a bit more casual these days it leaves a bit of leg room to show off your toes too! This season is all about big bows so you can enjoy this pearl off white option for your perfect day.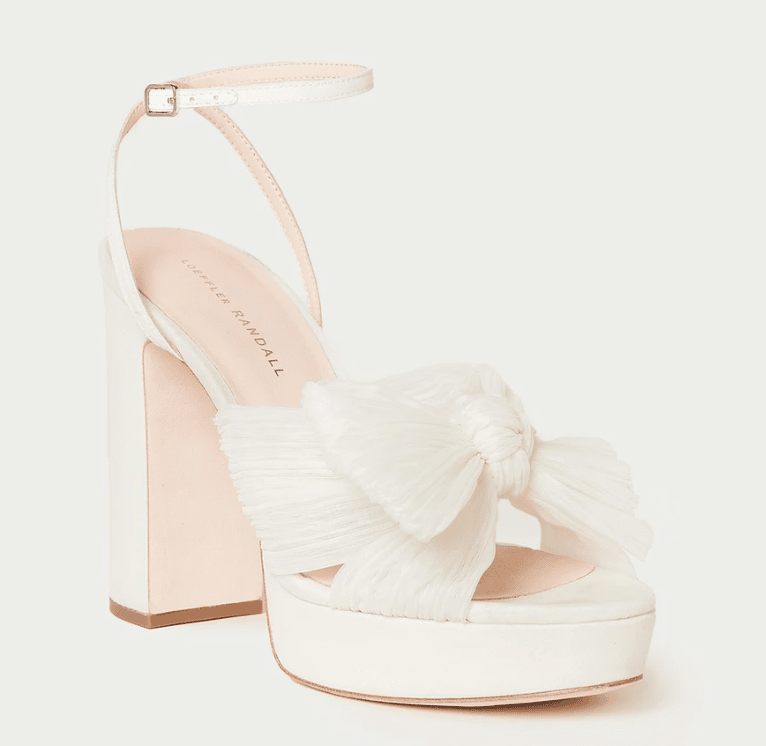 Great for a city hall wedding, the John Fluevog shoes are mighty and cute! A playful take on the classic Mary Jane, these shoes will certainly make you smile. With a hint of lighthearted love, these well crafted leather shoes from Peru are one to adore!