Edmonton Wedding Venue: The Enjoy Centre
Blush's Venue of the Year 2015
Posted by Blush Magazine • Posted on August 17, 2015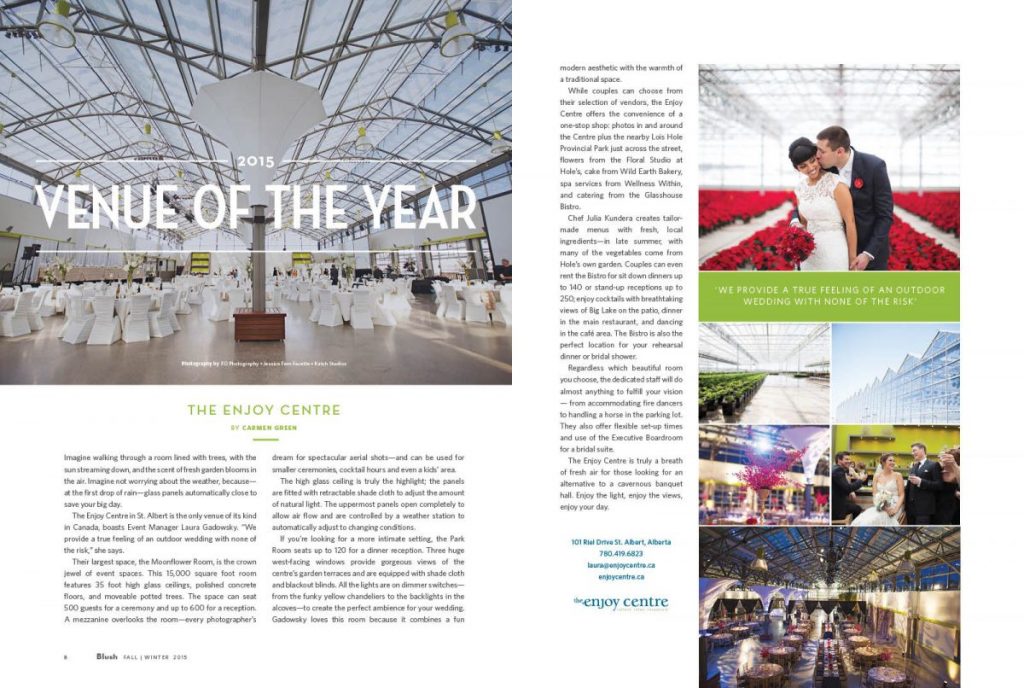 Imagine walking through a room lined with trees, with the sun streaming down, and the scent of fresh garden blooms in the air. Imagine not worrying about the weather, because—at the first drop of rain—glass panels automatically close to save your big day.
The Enjoy Centre in St. Albert is the only venue of its kind in Canada, boasts the event manager. "We provide a true feeling of an outdoor wedding with none of the risk," she says.
Their largest space, the Moonflower Room, is the crown jewel of event spaces. This 15,000 square foot room features 35 foot high glass ceilings, polished concrete floors, and moveable potted trees. The space can seat 500 guests for a ceremony and up to 600 for a reception. A mezzanine overlooks the room—every photographer's dream for spectacular aerial shots—and can be used for smaller ceremonies, cocktail hours and even a kids' area.
The high glass ceiling is truly the highlight; the panels are fitted with retractable shade cloth to adjust the amount of natural light. The uppermost panels open completely to allow air flow and are controlled by a weather station to automatically adjust to changing conditions.
While couples can choose from their selection of vendors, The Enjoy Centre offers the convenience of a one-stop shop: photos in and around the Centre plus the nearby Lois Hole Provincial Park just across the street, flowers from The Floral Studio, cake from Wild Earth Bakery, spa services from Wellness Within, and catering from the Glasshouse Kitchen|Bar.
Couples can even rent the Glasshouse Kitchen|Bar for sit down dinners up to 140 or stand-up receptions up to 250; enjoy cocktails with breathtaking views of Big Lake on the patio, dinner in the main restaurant, and dancing in the café area. The Glasshouse Kitchen|Bar is also the perfect location for your rehearsal dinner or bridal shower.
Regardless which beautiful room you choose, the dedicated staff will do almost anything to fulfill your vision—from accommodating fire dancers to handling a horse in the parking lot. They also offer flexible set-up times and use of the Executive Boardroom for a bridal suite.
The Enjoy Centre is truly a breath of fresh air for those looking for an alternative to a cavernous banquet hall. Enjoy the light, enjoy the views, enjoy your day.