Top Wedding Venues in Edmonton
From Regal to Modern - Our Top Picks
Posted by Blush Magazine • Posted on July 5, 2021
Are you in search of the best wedding venues in Edmonton? When you think of unique places to get married, it's easy to wander to far-off destinations—a white sand beach, a romantic European castle or even a rustic mountain lodge—but often reality pulls you back from reverie. An exotic location may not fit in your budget, or maybe travel just isn't possible for some guests whom you could never imagine your big day without. Fortunately, we have some one-of-a-kind venues for whatever size and style of wedding you're planning right within our city limits. From regal to modern, these event spaces are sure to make your dreams come true.
For Edmonton couples dreaming of starting their happily-ever-afters in a setting worthy of royalty, the Fairmont Hotel Macdonald has long been the gold standard. Whether you are hosting an intimate reception or a grand fête, The Mac has a room to suit every style. The most popular options are the Empire Ballroom and the Wedgwood Room, both of which carry the heritage designation. The regal Empire Ballroom boasts 21-foot decorated ceilings, opulent chandeliers and a pillar-free space so all your guests will have an unobstructed view of the festivities—up to 250 of them!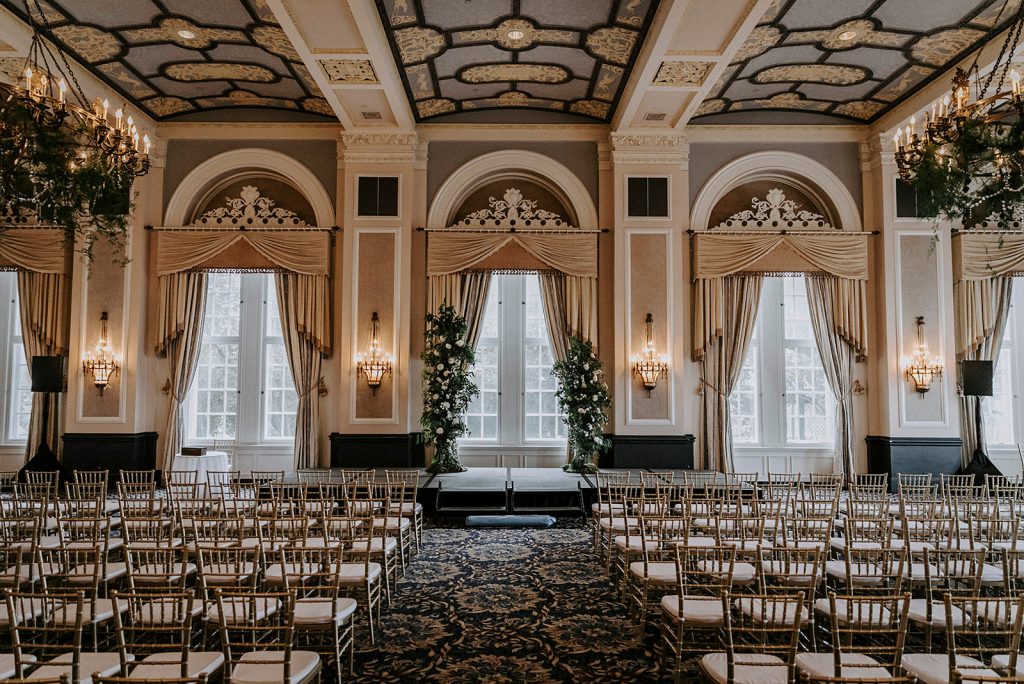 Photo: Jade Gabrielle Photography
Blush Magazine's Venue of the Year for 2015 is still bringing the "wow" factor to weddings all year round and remains one of our favourite spaces. This is the perfect space if you want to incorporate the outdoors without taking any chances on our notoriously unpredictable weather. Both event rooms feature tall glass ceilings to bring in the beauty of the prairie sky while lush greenery creates a complete sensory experience. The Moonflower Room is a bright open space that can accommodate up to 650 guests, while the Glasshouse Kitchen | Bar has a cool lounge like atmosphere for intimate gatherings of 100 or less. With onsite floral design, a bakery and even a spa, Events at Enjoy makes planning a breath of fresh air.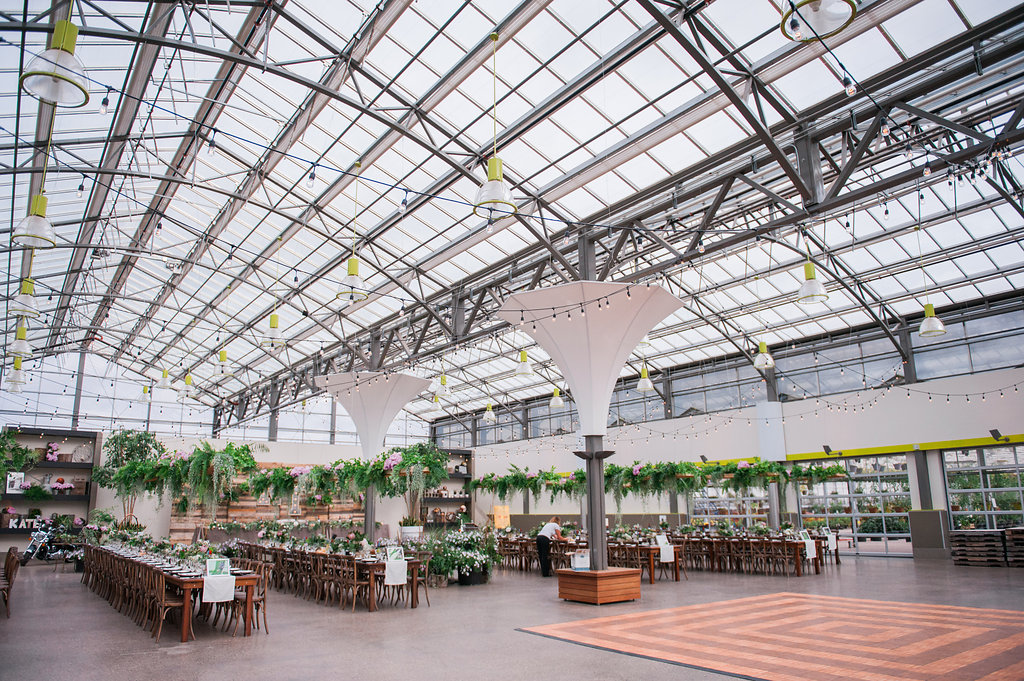 One of the newest additions to Edmonton's skyline is also home to the city's largest event space. The JW Marriott Edmonton Ice District is in the heart of downtown and boasts 10,500 square foot ballroom to accommodate over 1,000 guests. Surely such a grand room deserves a name to match, and who better to name it after than The Great One, Wayne Gretzky? In fact, all of the meeting rooms are named after legendary Oilers (except Rod Phillips, legendary sports broadcaster) and the hotel is directly connected to Rogers Place. Die-hard fans can party like it's 1988 while the hotel's certified wedding planners and culinary team take care of the fine details and dining.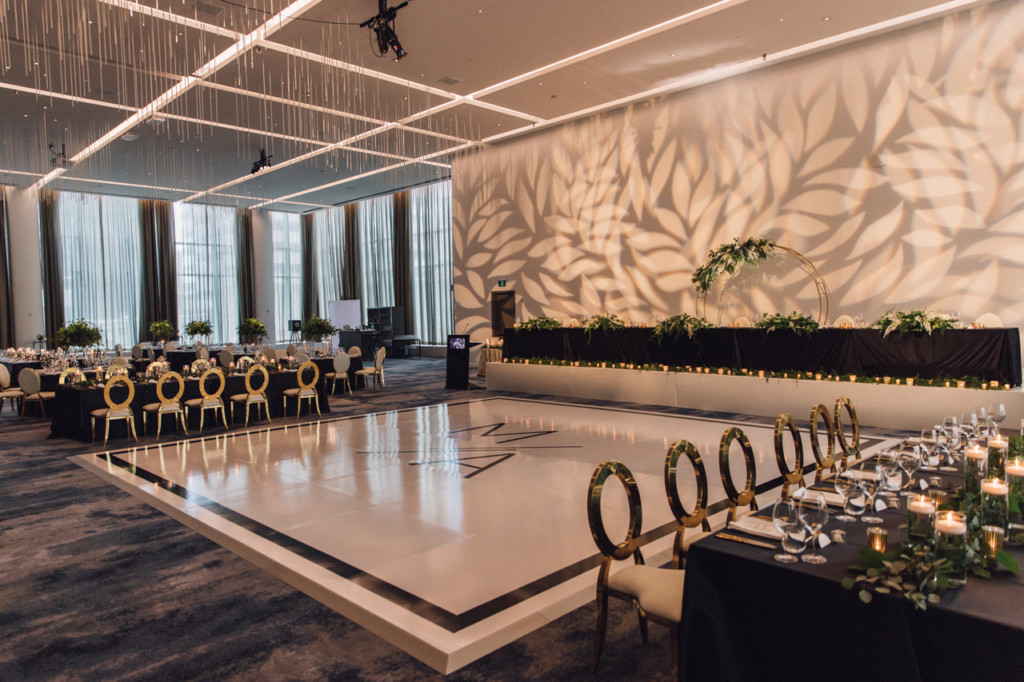 Photo: Nicole Ashley Photography
Aga Khan Garden
A garden wedding doesn't have to be all about backyards and begonias. The University of Alberta's latest botanical creation is a contemporary interpretation of Islamic landscape architecture designed for "education, reflection and the promotion of intercultural understanding and harmony". Named after its benefactor, His Highness the Aga Khan, the garden features 11 acres of geometric stone terraces, still pools, and over 25,000 plants. Nestled in the forest, a secluded amphitheatre allows for a private open-air ceremony for up to 250 guests. The nearby Pine Pavilion serves as a backup site in case of rain and can also be booked for receptions, and plans for a new pavilion, the Diwan, are in the works to complete the initial design for the garden.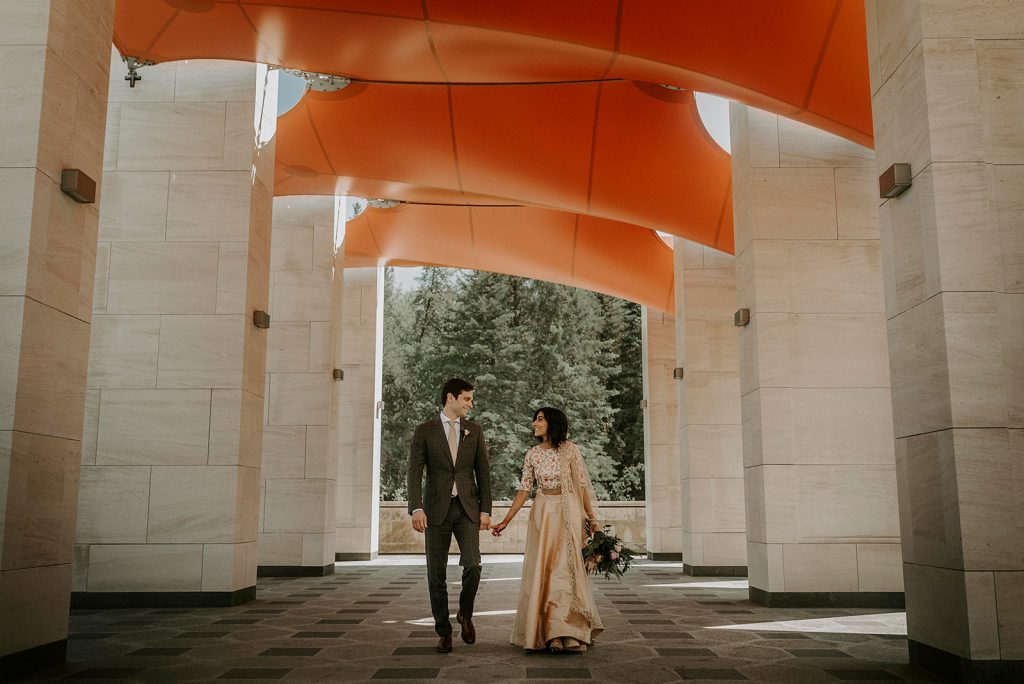 Photo: Jade Gabriel Photography
From its prime location in the heart of the arts and culture district in downtown Edmonton, to the catering par excellence, the Art Gallery of Alberta is one of Blush's top wedding venues in Edmonton. Staging your wedding, engagement or rehearsal events just got a whole lot more elegant.  Not only is it connected via underground tunnel to some of Edmonton's biggest names ensuring your guests ease of movement, it is also a singular architectural achievement that needs next to no adornment for couples who like to keep it simple.  For those who like the extra oomph, the space itself transforms beautifully. The space is a multitiered visual extravaganza that seats 200 for plated dinners and 300 comfortably for standing receptions.  Renowned architect Randall Stout is known for "creating environments that capture the unique composition of their natural surroundings, while transforming light, shadow, form, and materials into dynamic architecture.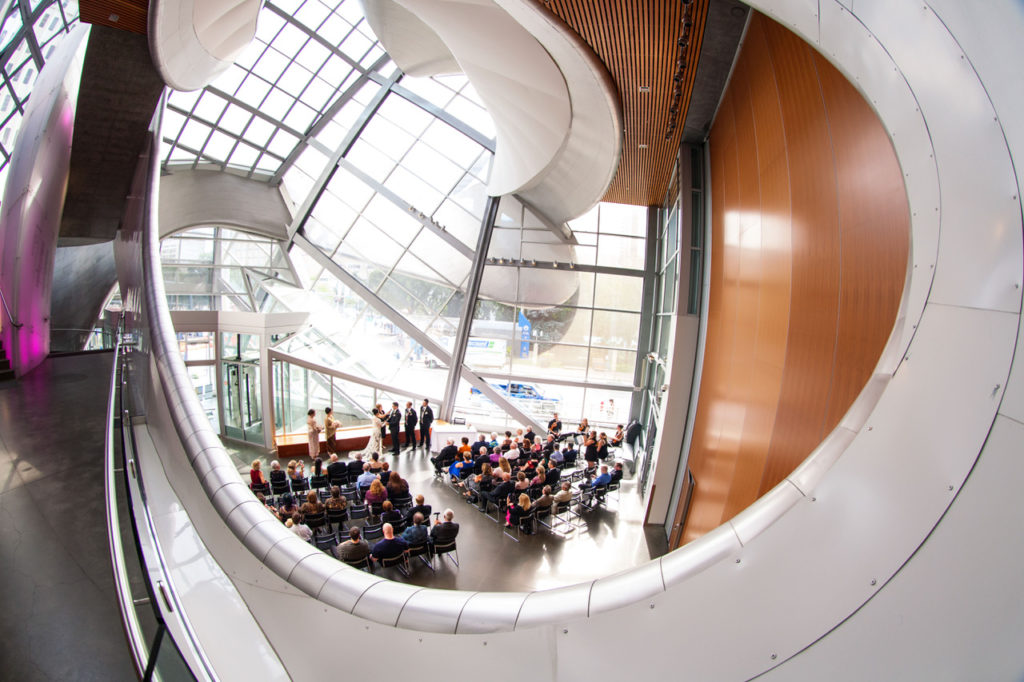 Photo: Haley Erdegard Photography