A Backyard Ceremony
Couple tied the knot in their backyard and plan to celebrate in 2021
Posted by Blush Magazine • Posted on June 29, 2020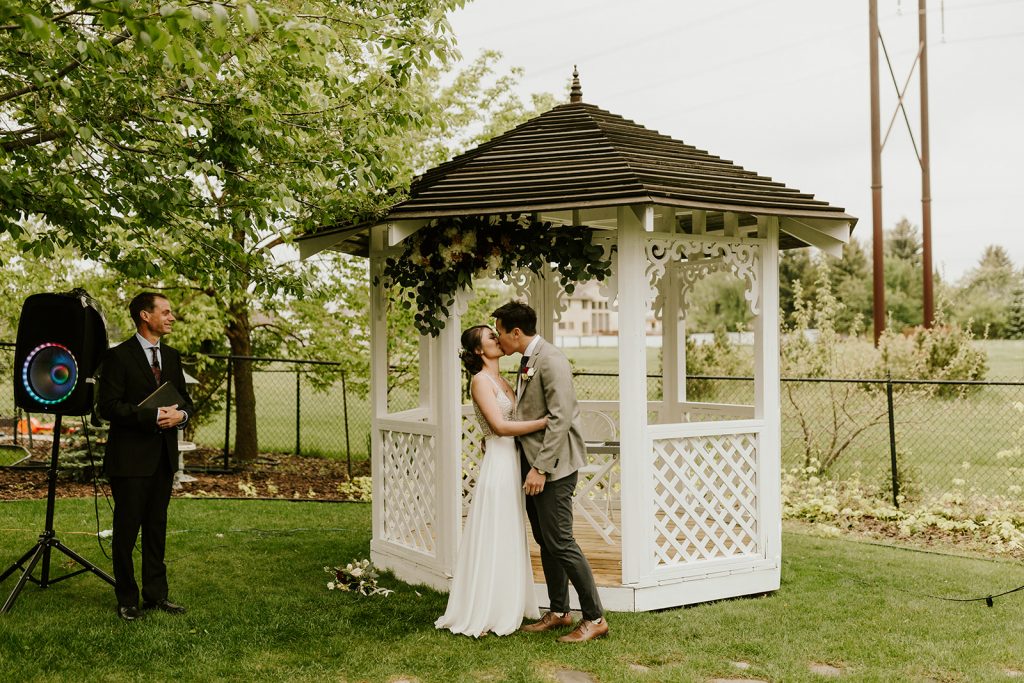 Grace and Matt had plans to tie the knot and celebrate in Mexico and Edmonton in the fall of 2020, but Covid-19 had other plans for them. The couple quickly realized that all they wanted was to be married and start their life together. "We were really lucky to have a beautiful backyard that was perfect for a backyard ceremony, so we were glad that we didn't have to worry about a venue. Also, we were blessed to win a giveaway with Our Jonrah Events. With the additional support of a wedding planner and the amazing vendors, we really didn't have any reasons not to get married sooner!"
How did you meet?:
"We've known each other since we were little. We lost touch but eventually reconnected a few years ago at a conference in Vancouver."
Tell us about the proposal: 
"In November we went to Mexico with a group of our friends. One of the days we were there, Matt told me that he had planned a photoshoot as a graduation present for me. In hindsight I should have figured out that he was going to propose, but in the moment I totally bought his story! For the photoshoot we left the resort and visited a nearby fishing village. We took pictures in the village, on the beach, and on a dock – where he proposed. It was really fun going back to the resort and having our friends there to celebrate with us."
When was your original wedding date?
"We had a destination wedding planned for October 2020 and were planning to host a large reception at the Polar Park Brewery in Edmonton for all of our friends and family in November 2020."
How many guests were at your intimate ceremony?
"Around 35. Alberta increased the maximum numbers allowed for a gathering the week before our wedding, so we were really excited to be able to have a few more of our friends there!"
What were your favourite memories of the day?
"We loved being able to spend more time chatting and actually eating with our closest friends and family. We felt like we were able to be present and really experience every moment that day because the day was more casual and because we had lots of amazing help from friends and family."
How did you celebrate after you were married?
"We ate the amazing leftovers from our wedding dinner in our new backyard! We were really excited to have leftovers because Nineteen did such a wonderful job on the food."
Do you plan on celebrating with your original guest list in 2021? If so, how? And where?
"We're still hoping to do a group trip to Mexico when everything settles. Our venue in Edmonton is letting us reschedule our reception, so hopefully we can still celebrate with everyone next year!"
Advice to other couples shifting their plans this year?
"Having to shift our plans really made us reflect on what was the most important to us. It was interesting to see what ended up being a 'nice to have' and even what we were previously planning on doing just cause they were things people usually did for weddings. I think my advice would be to sit down together and figure out what getting married means to you guys. Knowing what you really value helps with making modified plans for that day and prioritizing what needs to be done."
What are you looking forward to most now being a married couple?
"Figuring out what life looks like together and making our new house a comfortable and inviting place for friends and family."