Tented Weddings
Tips To Plan A Spectacular Tented Wedding
Posted by Blush Magazine • Posted on March 8, 2021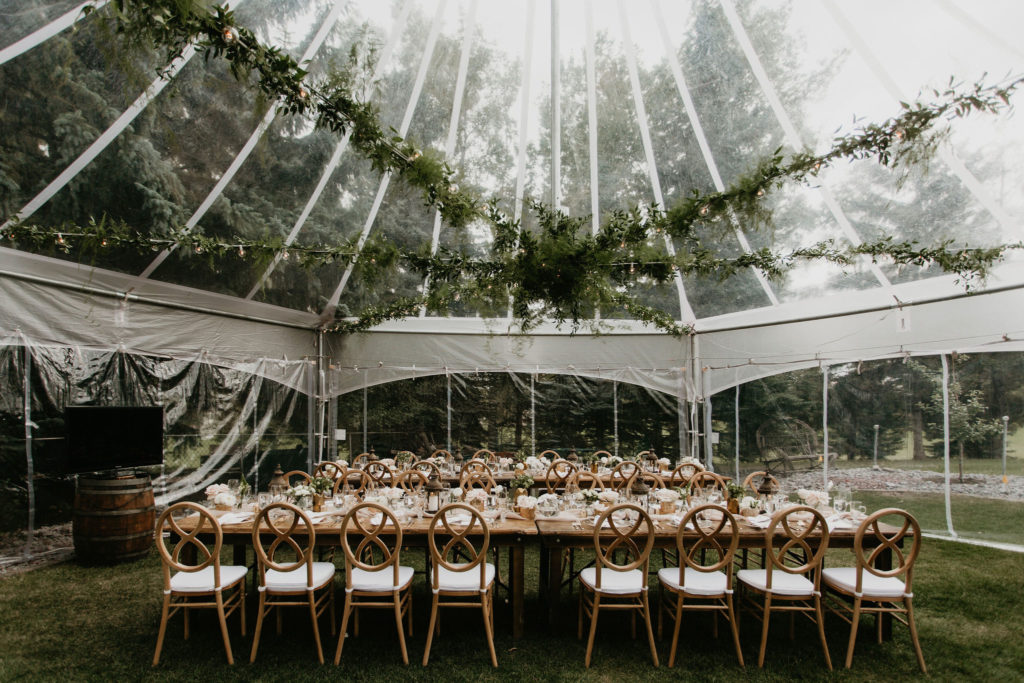 With Spring and Summer approaching in Canada and the gradual easing of restrictions means we can expect weddings, with more guests, back on the calendar.
However, any wedding you plan or attend will be quite different to one held pre-pandemic.  The rules around how many wedding guests can change over time and will differ by city or province. Besides following restrictions on how many people can attend and mask wearing, we know that being outside is the safest because the risk of transmission is significantly lower when you're outdoors.
Enter the tented weddings! Wedding tents can be elegant, chic and necessary for most outdoor celebrations. The right tent will protect guests from unexpected rain showers while providing a stylish setup for you ceremony or reception. Here's a helpful guide on everything you need to know before renting a tent, straight from the professionals at Special Event Rentals;
PERMITS: Permits may be required in some instances. This will depend on the municipality, type of event, and length of time the tent will be set up. We suggest you contact your local municipality to see what permits may be required.
HOW DO YOU SECURE THE TENTS?: Tents are installed by trained crew members and in accordance with the manufacturer's specifications. The preferred method is to stake into the ground using 24"-42" metal stakes. This can be done on grass, gravel or asphalt. We can also use large concrete weights to secure the tent if staking is not an option.
DO YOU REQUIRE AN UNDERGROUND UTILITY LOCATE?: Yes, all underground utilities must be located and marked prior to the installation of the tent. Therefore, we require an Alberta One-Call before all staked tent installations. This free call will ensure we do not hit any underground lines during the installation. You can make your appointment with Alberta One-Call by phone at 1-800-242-3447 or online at www.albertaonecall.com.
HOW DO I PICK A TENT: We have a tent reference guide to help you pick the perfect tent for your celebration.
ACCESSORIES: When planning a wedding in a tent, be sure to think about the other elements you'll need to make your big day run smoothly. These items may include portable restrooms, lighting, tables and chairs, dinnerware, generators, and A/C units or heaters. Many rental companies provide these additional items in their service. You may also need to rent separate tents for the band or catering team.
DO I NEED FLOORING?: You should consider getting flooring for tented weddings, since the natural ground can be soft or muddy. Temporary flooring also eliminates the problem of high heels sticking into the grass. You can opt for flooring that spans the entire tent or just a dance floor.
With the help of a wedding planner you can deck out these blank canvases with unexpected accents, like string lights, chandeliers, and cascading floral installations.