A Guide to Planning Your Wedding During a Pandemic
Help! I'm Engaged (Step One: Read This Guide)
Posted by Blush Magazine • Posted on January 26, 2021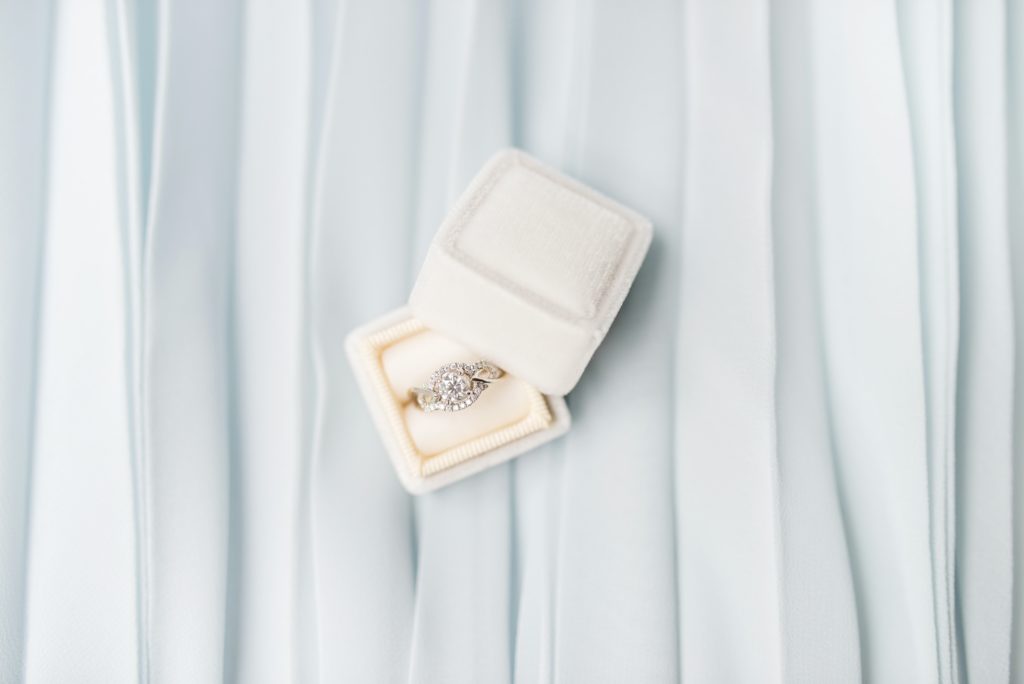 Getting engaged is likely one of the most exciting & highly anticipated moments of your life. However, when you get engaged in the midst of a global health crisis, the excitement might also be followed by a slight sense of anxiety when it comes to starting down the road of planning your wedding. Have no fear, Julianne Young Weddings answered all your burning questions;
What are weddings going to look like in 2021?
It's going to be a BUSY year due to all the postponed weddings from 2020. Although we don't have a crystal ball, it is likely at this point that we'll have *some* sort of restrictions still in place in 2021, yet there is a lot of speculation as to when those restrictions will be lifted on social gatherings, and when the borders will be re-opened for international travel. We have stopped trying to predict when this will end, and instead focus on being proactive with what we know so far. With that in mind, it's likely that guest lists will remain small & intimate, and the beautiful micro weddings & elopements we've been seeing will remain the norm for some time yet.
What do I do first after I get engaged?
Once you're ready to start planning & you've sufficiently celebrated the proposal, discuss when you'd like to get married. With ever-changing rules of the game, choosing dates further in the future might make it a little less complicated with the hope that one day some sense of normalcy will resume & larger guest lists will be allowed. However, sometimes life must go on despite this pandemic, so if a closer date in 2021 is your preference and the idea of a smaller, more intimate wedding excites you, the good news is – This is your year!
Next is getting together the guest list. For most weddings in 2021 we recommend keeping numbers conservative for now (ie. under 50). Once we have a little more information in the spring/summer around borders, vaccines, and hopefully a flattened curve, should restrictions be lifted you might be able to invite more guests closer to the date, and it'll be a nice bonus for you.
For weddings in 2022 & beyond, we are currently helping clients plan their weddings with larger guest lists, yet are having open conversations about the potential of restrictions still being in place and backup plans for that.
What tips do you have for planning a wedding in 2021?
If 2020 has taught us anything, it is to be adaptable, and what we want to help prepare you for is scalability, so that you have more options than just the dreaded "P" word in 2021… (Postpone, that is). Scalability means the option of scaling the event up or down in terms of guest count, and also when it comes to your floor plan, ensuring there is scalability to allow for social distancing regulations to be followed in the space if needed.
Why would I consider a micro-wedding?
Smaller weddings (called "micro weddings") have been a blessing in disguise for many couples. They are typically less stressful, more authentic/personal, and more focused on what really matters. For some, postponing the wedding is just not an option – Whether that's because you've already done so once (or twice…) or even if its just as simple as you're ready to begin your married life together! We get it. So for that reason, scaling down the guests in order to be able to proceed with the wedding can be a nice alternative.
If we can offer two tidbits of insight from the weddings we were a part of this year; Fewer guests doesn't mean less fun. It means more meaningful & authentic moments between you and the guests who are able to attend your wedding day. And also, this is good news for your budget, because smaller guest counts allow your budget to have a bigger impact. If you have to compromise on the guest count, sometimes that means you can splurge on something else like the floral arch of your dreams or the videographers you'd always wished you could work with. Your dream wedding becomes more affordable on a smaller scale.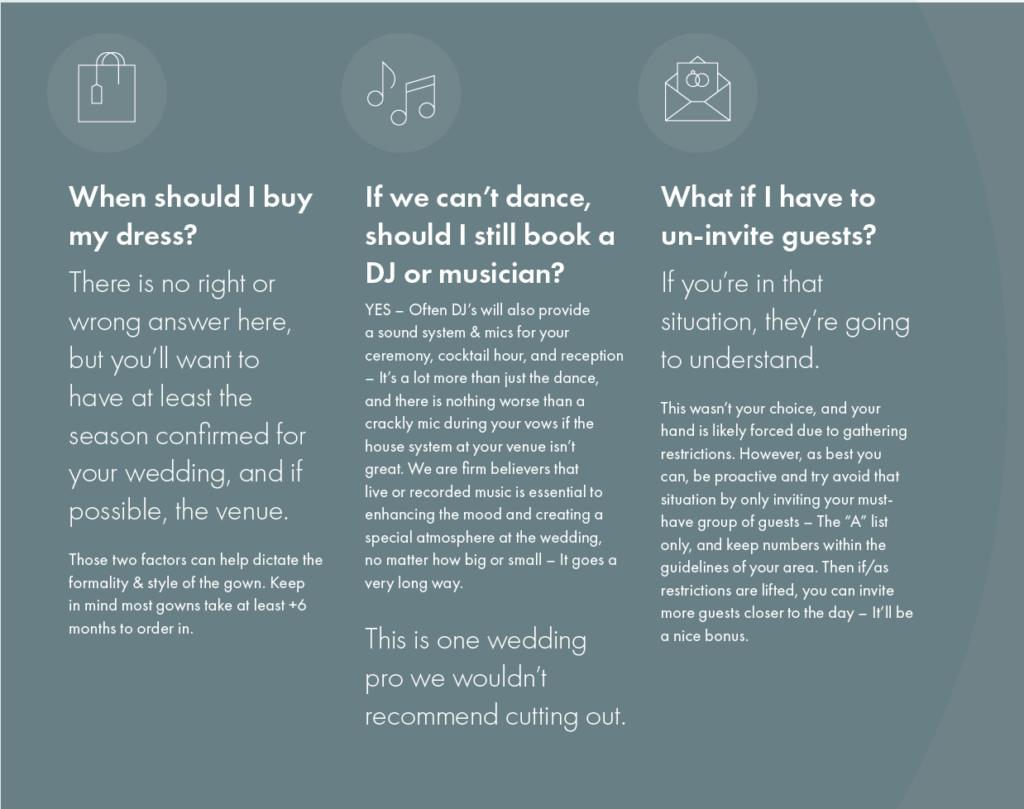 Is live-streaming to virtual guests really a thing?
Yes! And it's a great solution when borders are closed and quarantine requirements make it difficult to travel. There are creative and fun ways to make "would've-been" guests still feel like part of the magic and experience your day, and some very good live-stream vendors that are able to help make sure this goes off seamlessly. Some of our favourite ideas include sending guests a care package in advance, not to be opened until the wedding day, with a small something to toast with and/or enjoy as they view the live stream – These can be as simple or elaborate as you like.
What should I look for in a venue contract?
Be clear on their postponement policy. Most venues will not allow event cancellation without losing the deposit, however it's good to be aware what their policies have been in regards to postponements if you need to do so. Also be clear on their COVID-19 guidelines at the property, how they are communicated to your guests in terms of signage or staffing, and what sanitation & safety measures are in place to reduce potential transmission. And finally, know the capacities of the space you're booking, as occupancy levels in venues are all under different limits depending on your location and venue type.
Should I pay deposits for vendors or hold off on planning?
Yes, yes yes. Once you have your date & venue confirmed – full steam ahead. 2021 & 2022 are going to be very busy years for popular vendors in the wedding industry, so securing your spot with them early is important if there are people you really want to work with.
At the end of the day – Wedding planning should be fun & exciting, even at times like this. If at any point you feel like things aren't coming together how you thought they would, you're stressed and losing sleep over your wedding – Please contact our team, there are many ways we can be here for you at all sorts of price points.
XO Julianne