Love Virtually
How to Have a Virtual Wedding During COVID-19
Posted by Blush Magazine • Posted on June 15, 2020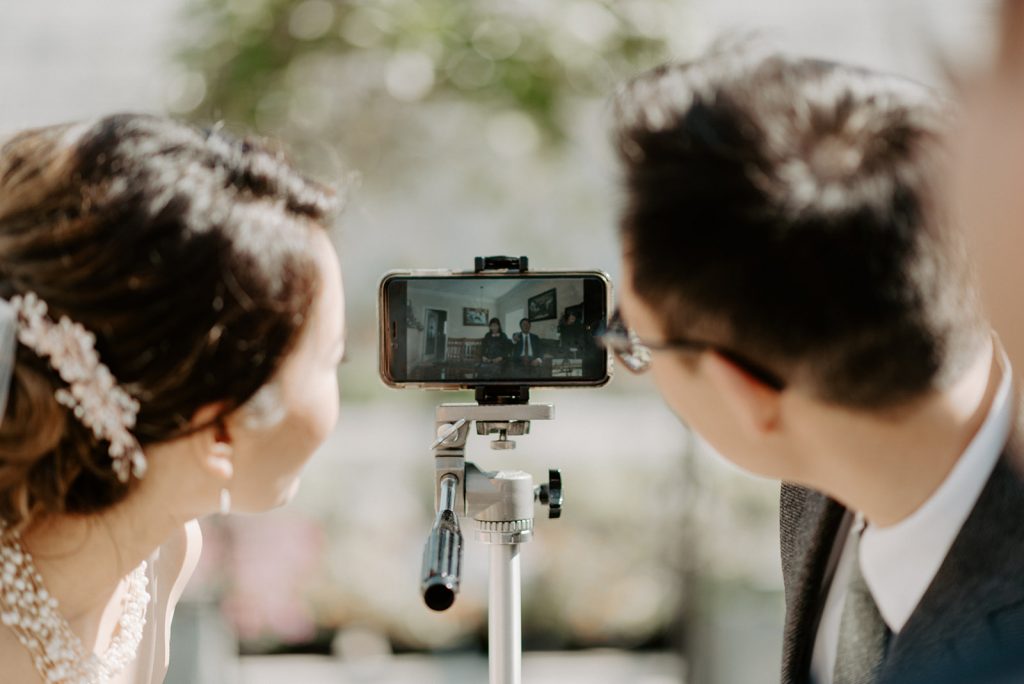 The hardest part about living in a COVID-19 world is not being able to see loved ones in-person, especially during special occasions. As connecting face-to-face poses a significant health risk, more of our social interactions have moved online. By now you've likely video-conferenced at least once, whether it was a work meeting on Zoom, a virtual games night with friends and family on Google Hangouts, or a yoga class hosted on Instagram Live. These digital tools mean there's no need to postpone your ceremony or reception; you can still have your wedding cake and eat it, too. Here are a few tips to make your dream wedding a virtual reality.
Usually considered a wedding day splurge, a good videographer is essential to a virtual celebration. Companies like Ring Tail Films in Calgary and Integra Films in Edmonton are offering COVID-19 wedding and elopement packages, using one videographer to minimize the impact on a limited guest list. These packages include an edited highlight reel that you can show at a larger reception later on, and options are available to livestream the event to your loved ones. This ensures everyone will have a clear view of the ceremony from the first look to the first kiss.
Make sure you include detailed instructions or a link to a tutorial in your invitations so guests can learn how to use your platform of choice well ahead of time. Encourage everyone to dress up for the event; while it may seem silly to don a gown or tuxedo in your living room, most people will find it a welcome distraction from pandemic life and a fun change of pace from pajamas. Ask guests to have a beverage ready to toast the newlyweds, whether it's a glass of champagne or sparkling water.
Streaming doesn't have to stop after the "I do's"; there are ways you can still include remote guests in your downsized reception. Since a group dinner in some regions isn't really feasible, ask guests to order in or cook your favourite dish such as Neapolitan pizza or mac and cheese—you can even post your go-to recipe ahead of time. The same thing goes for dessert; as you cut your own mini cake, people can enjoy a cupcake or other treat from their local bakery. After your first dance, stream your wedding playlist for a virtual dance party.
A limited number of in-person guests means you're spending less on food and beverage, so you can also use this opportunity to splurge on celebrating as a couple. The extravagant menu that just didn't work with your budget before is now within reach, and you can get an elaborate gourmet cake for two for a fraction of what a full-sized cake would cost. You can even turn your décor and tableware up a notch—buy two place settings of fancy china for the big day that you can use later for romantic date nights at home.
In some ways we are fortunate this global pandemic is happening in 2020 when we have easy access to digital tools to keep us connected that didn't exist even a few years ago. We all need more reasons to celebrate right now, so instead of delaying your wedding due to COVID-19, shift it online. As Ring Tail Films puts it, "Love doesn't stop for no stupid virus."