Love in the Time of Coronavirus
How To Throw A Socially Distanced Wedding or Elopement
Posted by Blush Magazine • Posted on June 9, 2020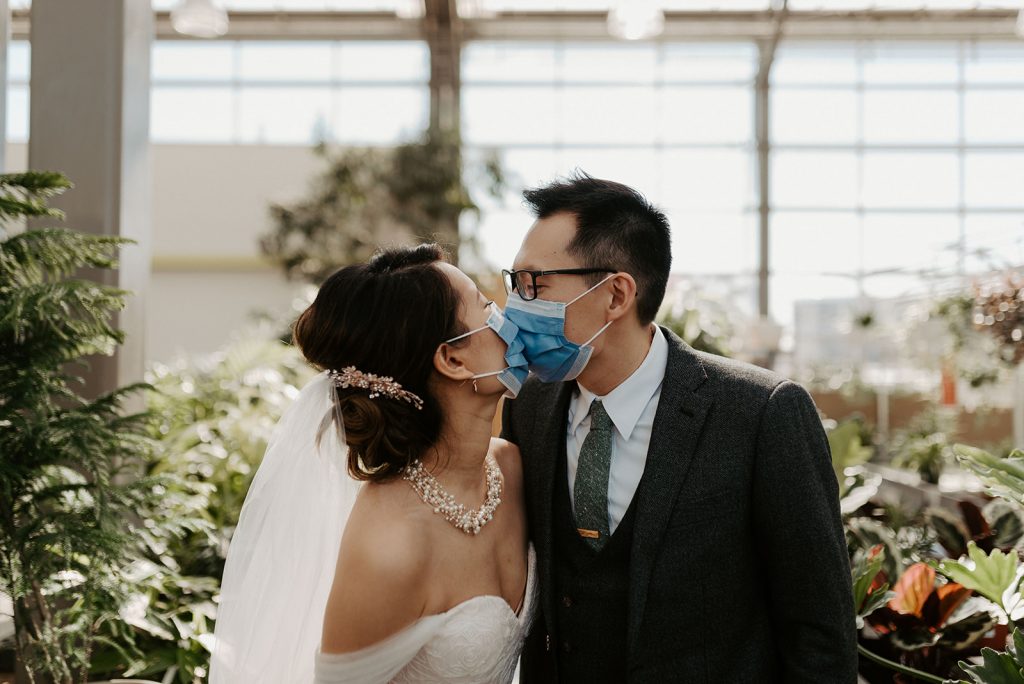 The COVID-19 pandemic has not only disrupted our daily lives, but for many has also derailed major milestone events. Couples have been forced to postpone their weddings due to measures put in place to curb the virus' spread. As social gathering restrictions start to ease across Canada, many wedding vendors are looking to get back to business with enhanced safety measures or virtual offerings. If you want to hit pause on the big party but still can't wait to say your "I do's", here are some tips for throwing a socially distanced intimate wedding or elopement.
The first thing you'll need to do is assemble a team of experts, including a venue, photographer/videographer, hair stylist, makeup artist, florist, and officiant. If your wedding was already in the works pre-pandemic you can contact your existing vendors to see if they're operating and what policies they have in place to keep everyone safe. You can also enlist a wedding planner to put together a package with vendors they know and trust to save you the additional stress.
An outdoor location is ideal since the spread of infection is lower outside. If the site doesn't have access to shelter, rent a tent to provide shade and rain cover for your guests. You'll have more outdoor options as city, provincial and national parks open again, but check individual availability. If you'd still prefer and indoor ceremony, check with the venue to make sure they have enough space to seat guests two metres apart.
You'll also have to check your provincial regulations regarding gathering sizes and other restrictions. As of June 12, Alberta has increased the limit to outdoor gatherings and indoor seated gatherings to 100 people and indoor social gatherings increased to 50 people. B.C has maintained a limit of 50 people for both indoor and outdoor events, and now allows private dinners in your home or backyard for up to six guests as long as no one has any symptoms of COVID-19 and are able to maintain appropriate physical distancing and protective measures. Both provinces are strongly discouraging interprovincial travel, so keep your guest list local.
While a wedding is one of the most important celebrations in a couple's life, it's important to remember that there is a global pandemic happening (as if anyone could forget right now!) and there are a few additional precautions to take before you pop the champagne:
Make sure the event space allows for mandated physical distancing and keep 2 metres from others. Avoid high-risk activities that promote infection, such as shaking hands or sharing food or utensils.
Reduce the number of participants or change the venue to allow for physical distancing.
Cancel or postpone your reception, and explore virtual attendance for your ceremony, especially for people at greater risk (people age 60 years or older and those with chronic medical conditions).
Exclude people who have any symptoms of COVID-19: cough, fever, shortness of breath, runny nose or sore throat (even if they appear mild or resemble a cold).
Stagger the time of arrivals and departures from gatherings.
Increase access to hand washing stations or alcohol-based hand sanitizer.
Increase the frequency of cleaning for high-touch surfaces
Promote personal protective practices such as coughing and sneezing etiquette, and proper hand washing practices.
Due to these unprecedented times, your wedding may not end up being exactly the day you dreamed of, but it can still be beautiful, meaningful, and certainly memorable. So go ahead and order those personalized masks and mini bottles of hand sanitizer; love is always worth celebrating.