Edmonton Wedding Venue: The Fairmont Hotel Macdonald
Blush's Venue of the Year 2017
Posted by Blush Magazine • Posted on August 16, 2017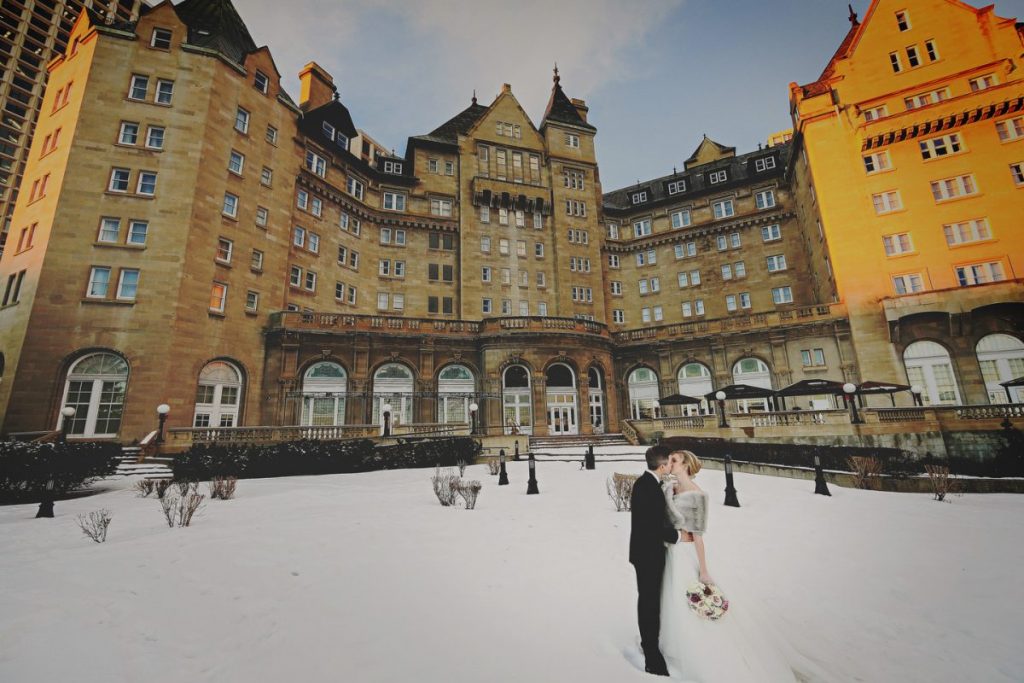 For Edmonton couples dreaming of starting their happily-ever-afters in a setting worthy of royalty, the Fairmont Hotel Macdonald has long been the gold standard. Situated on the high banks of the North Saskatchewan River, "The Mac" has been an iconic fixture of Edmonton's skyline for over a century.
The Grand Trunk Pacific Railway first opened the hotel's doors in 1915 to tune of $2.25 million (that's over $35 million in today's dollars!), and named it after Canada's first prime minister, Sir John A. Macdonald. The design was adapted from 16th century French castles, or châteaus, and featured Indiana limestone facing and copper roofing. The hotel was the glamorous epicentre of Edmonton's social scene for decades until it fell into disrepair and closed in 1983. In an effort to save the historic building from the wrecking ball, the city designated it as a Municipal Heritage Resource. The hotel underwent a massive restoration under new ownership until it was returned to its former glory but with modern amenities.
The Hotel Macdonald is renowned for its luxurious suites, exquisite catering and impeccable service—and let's not forget Smudge, their beloved Canine Ambassador! Their dedicated team of professionals works closely with each couple to ensure everything from the room to the food is tailored to fit their vision for the day and surpasses their expectations.
Whether you are hosting an intimate reception or a grand fête, The Mac has a room to suit every style. The most popular options are the Empire Ballroom and the Wedgwood Room, both of which carry the heritage designation. The regal Empire Ballroom boasts 21-foot decorated ceilings, opulent chandeliers and a pillar-free space so all your guests will have an unobstructed view of the festivities—up to 250 of them! This room also includes access to a private terrace in the manicured gardens so you can soak in the spectacular view of the River Valley. The Wedgwood Room shares the intricate detailing of its namesake, Wedgwood China, within its domed structure. The soft, muted colour palette makes it a favourite for both ceremonies and romantic receptions for up to 110 guests. Couples who book either room also get a complimentary View Room for the wedding night.
There are also stunning options for cozier affairs for 30 to 60 guests; The Jasper Room features rich oak paneling and original stained glass windows, while the Drawing Room has an airier atmosphere with pale blue walls and white woodwork framing a trio of tall windows. During the brief yet beautiful summer months, the enclosed Gazebo is also available for garden receptions or even bridal showers.
The event coordinators at Fairmont Hotel Macdonald also have a specially selected list of recommended vendors to ensure you are treated like royalty from the first plans to the last dance. There really is no need to look further than The Mac, "where modern luxury meets historic, old-world grandeur."