Edmonton Wedding Venue: Aga Khan Garden
Venue of the Year 2019
Posted by Blush Magazine • Posted on November 5, 2019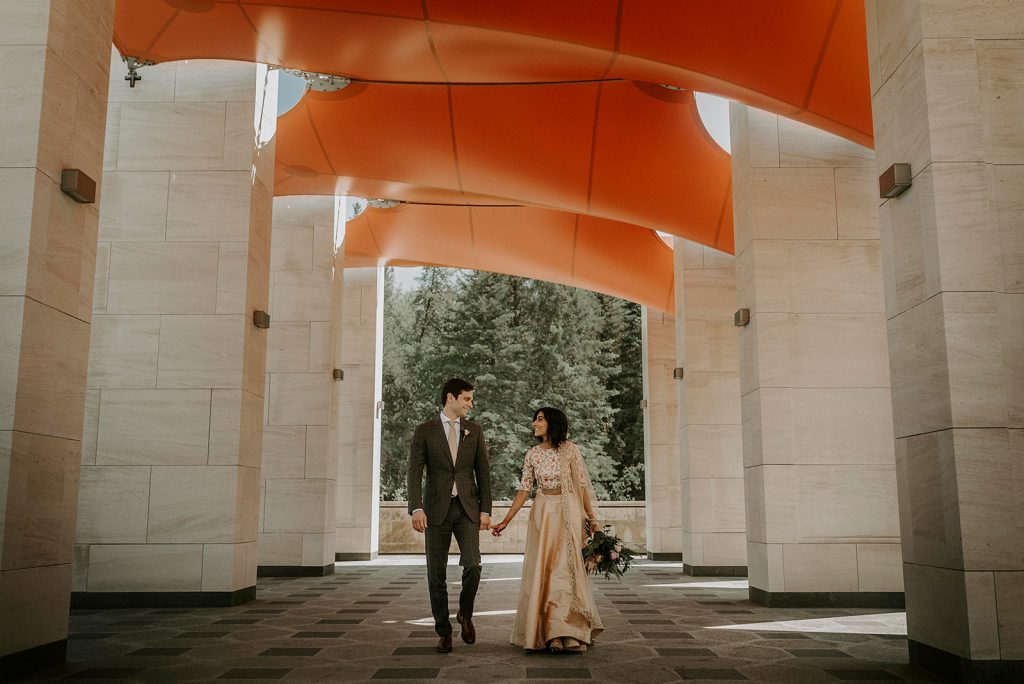 Weddings aren't just about two individuals pledging their love and commitment to each other, they also have the power to bring together families from different cultural and religious backgrounds for a celebration of unity. It's the same spirit of pluralism that laid the foundations of Alberta's newest public garden and wedding space, the Aga Khan Garden at the University of Alberta Botanic Garden.
Officially inaugurated just last year, this 12-acre garden is a gift to the University of Alberta and all Canadians from the Aga Khan, the spiritual leader of the Ismaili Muslim community. Building connections is the principal goal of this collaboration and it shines through every aspect of the garden's design. Renowned landscape architect Thomas Woltz combined elements of traditional Islamic gardens with a modern aesthetic to create a sensory experience that also reflects Alberta's natural landscape and heritage. Geometric stonework frames twelve different water features—from tumbling waterfalls to a wild rose-inspired fountain to still pools that reflect the prairie sky. Each of the 25,000 plants were chosen for beauty, fragrance and ability to thrive in our tough northern climate. The structured terraces transition to fruit orchards, natural wetlands and secluded forest paths to symbolize our collective responsibility to protect and steward the land. An open amphitheatre nestled within the forest provides a peaceful gathering space to develop human connections—including weddings.
Newlyweds Khadija and Dan came from different faiths and cultural backgrounds and loved the idea of having both their families come together in a space that was purposely designed for just that. "The most important thing was for our wedding to be to a very intimate gathering, and the amphitheatre really was the perfect setting for that," says Khadija. "Also, the Aga Khan Garden has such a unique balance of built and natural spaces. We loved that our family and friends, especially the ones from out of town, had a chance to experience it."
The Aga Khan Garden is also completely accessible, so all of your guests can enjoy the space—up to 250 of them! All ceremony packages include golf cart shuttle services for the wedding party, immediate family, and elderly or disabled guests. You and your bridal party have access to the indoor "green room" to get ready for a spectacular two-hour photo session in the gardens. Start with a romantic first look at the Woodland Bagh reflection pool, then bring the whole party together on the grand steps of the Talar. Don't fret if dark skies threaten to dampen your day; the Pine Pavilion is reserved as a rain backup and you will have access to the indoor showhouses for photos.
Even though wedding traditions greatly vary between cultures and religions, they all have roots in the universal tenets of devotion and understanding. Wedding ceremonies reflect the values that two individuals will bring into their new life together, so choose a venue that expresses what matters most to you. Whether you feel deeply connected to nature, your loved ones or your spiritual faith, the Aga Khan Garden is an idyllic setting to gather together and celebrate diversity, unity and love.