Top Ceremony Arches of 2021
Need Ceremony Inspo?
Posted by Blush Magazine • Posted on January 1, 2022
The wedding arch is a traditional design element often used as the ceremony's focal point, as entries and exits and often reused as a backdrop in the reception design. This design feature provides a frame for vows, creates the doorway to a space, or helps a vast space feel much more intimate – plus they make for incredible photos!
A wedding arch can consist of flowers, branches, wooden structures, mirrors, and beyond. They can come in any shape as well; think: round, pointed, geometric. We even have some hanging and free standing favourites to share. Work with your wedding planner, designer or floral designer to create the right style for you. We've gathered our favourite wedding arch ideas—from some of the most stunning real weddings—to serve as inspiration for your very own 2022 ceremony, reception or entryway decor,
Make A Statement
Designer + Planner: Julianne Young Weddings | Floral: Flower Artistry | Photo: Corrina Walker Photography
This couple took an already epic backdrop to the next level by adding a bright and colourful ceremony arch. We love the cathedral shaped ceremony arch and the colour palette gives us an instant mood boost.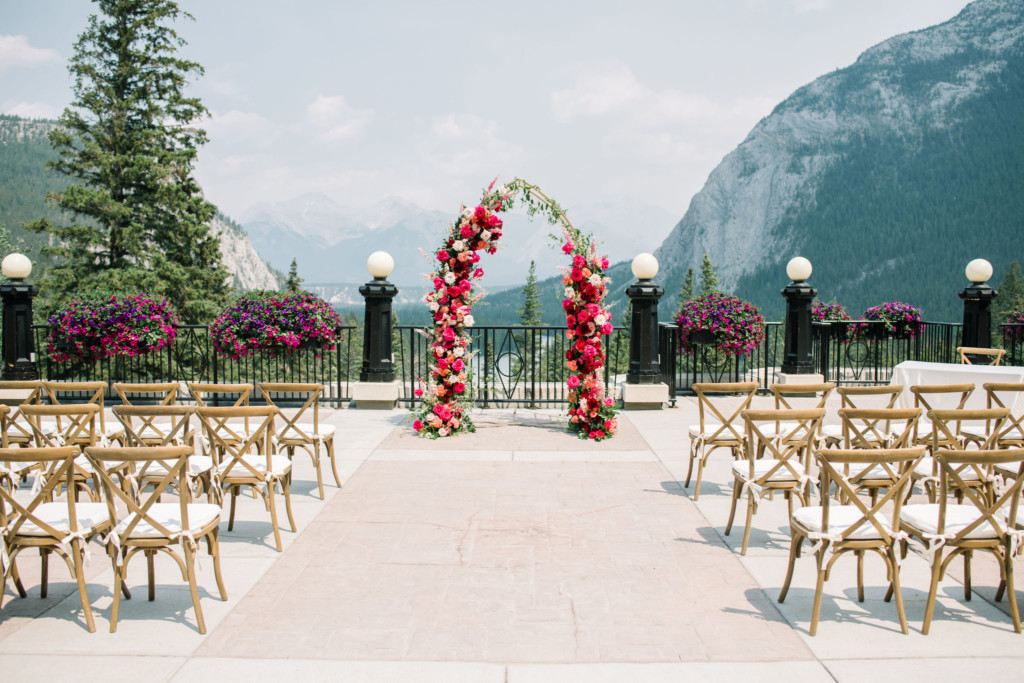 Classic and Simple
Designer and Planner: Jennifer Bergman Weddings | Floral: Fairmont Jasper Park Lodge | Photo: Janine Rose Photography
A simple, yet chic arch is always a beautiful option! This round wedding arch from Kristen and Peter's Jasper Park Lodge wedding framed the couple for the best photos and the floral accents compliment the bride's bouquet perfectly! and YES to throwing flower petals for the perfect kiss shot!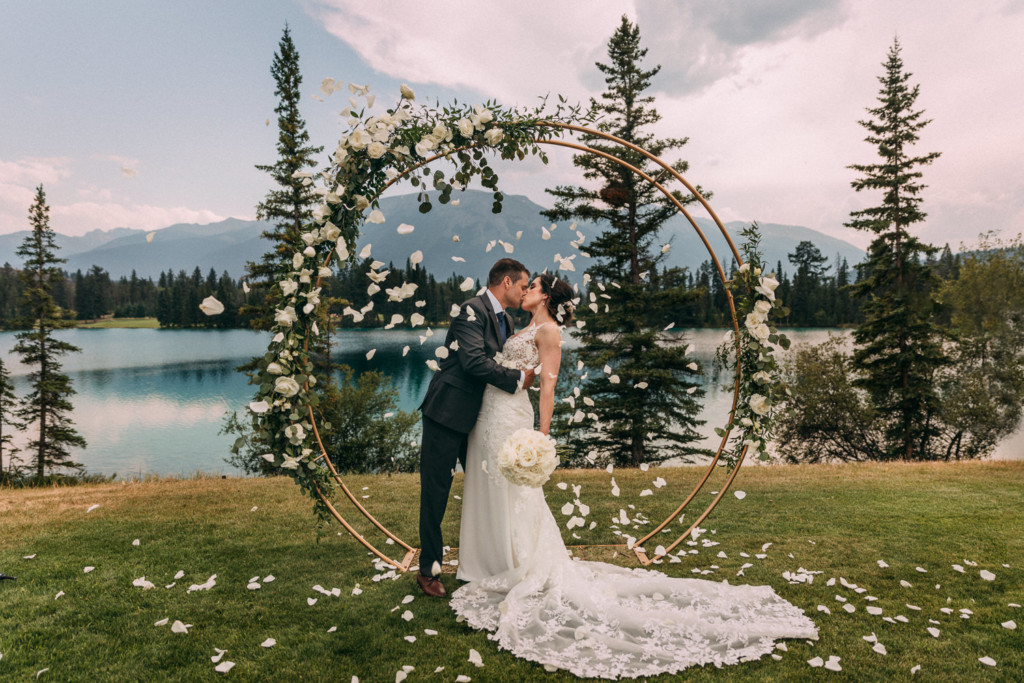 Subtle Hanging Rose Backdrop
Designer + Planner: Dream Big Weddings & Events | Floral: Minim Designs | Photo: Sharon Litchfield
For a subtle ceremony backdrop, this couple opted for a hanging rose backdrop to the ceremony site nestled within a tree grove. This backdrop seamlessly blends with Linden Garden's natural surroundings.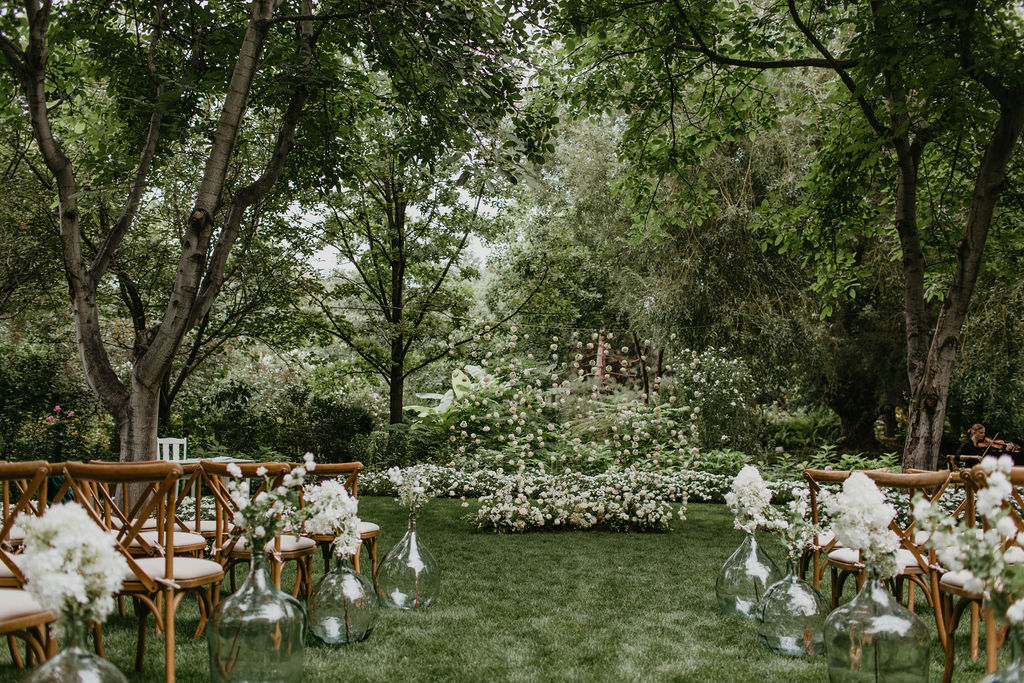 Frame the Couple
Floral: Fall for Florals | Photo: Tim + Court
You'd think this wedding took place in autumn with these colour tones. But Katie and Kyle actually tied the knot in July at their Copper Toned Canmore Wedding. We love how the floral framed the couple so beautifully for their first kiss as husband and wife. The floral creations were later moved into the reception space.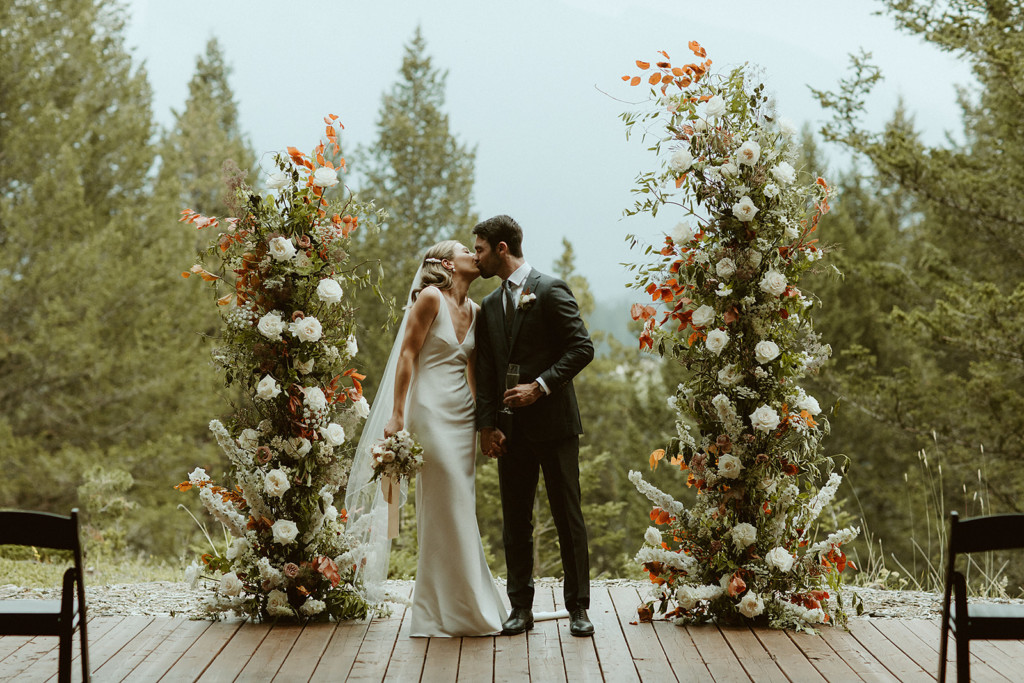 Asymmetrical with Pops of Colour
Designer + Planner: Created Lovely Events | Floral: A New Leaf Floral Design; Minim Designs | Photo: Royce Sihlis
Not only do we love the beautiful pops of colour used to decorate this arch, but we're also in awe with the asymmetrical design. The left side of the arch does a great job of framing the couple while the low right side allowed guests to still take in the gorgeous backdrop of Okanagan Valley.